An enjoyable walk on a manicured golf course combined with the foursome of your choice and a good cigar - for many on a Sunday afternoon, this is truly an occasion to be savored.
As Raul Julia once said, "A cigar is as good as memories that you have when you smoked it."
It is no secret that golfers on Tour enjoy a good smoke - Jim Thorpe favors Partagas, Darren Clarke enjoys his Cohibas and former Champions Tour golfer, Walt Morgan, has this to say about his relaxing pleasure,
"Golf and cigars just seem to have always gone together," says Morgan, the winner of three professional events. "That's the way I learned to play—swing with one in my mouth because I didn't like putting it down. I don't know how I would play if I didn't have one because I haven't tried it..."
So, what makes for a perfect smoke at the course? 
This Golf for Beginners blogger recently asked Famous Smoke Shop for their opinion; would golfers on the course prefer a plump or slim cigar, large or small - do they want something mild or medium-bodied... a more complex flavor perhaps?
More often than not, a round of golf can take more than four hours to complete so it is best to consider a larger cigar like a Churchill which is said to burn cooler and longer and runs about seven inches in length. The size of a Churchill requires patience, just like your golf game, so take your time and enjoy. As for the flavor and complexity of the smoke, that is where the conversation gets personal.
Here are five great cigars to appreciate on the golf course:

Oliva Serie V Cigars
Full bodied, smooth and perfect for contemplating your next shot, these Nicaraguan Oliva Serie V Cigars have rich coffee and dark chocolate flavors with a spicy undertone. The smoke is as beautiful as the wrapper which surrounds it! 
Liga Undercrown Corona Doble Cigars
As complex as the double-breaking 30-foot putt on the green, this blend of tobaccos from Drew Estate is hand-rolled and infused with notes that are earthy, creamy and completed with a sweet tobacco finish. Your taste buds will cry for more.
Acid Kuba Kuba Cigars
Yes, the lady golf writer smokes Kuba Kubas! Fragrant bouquet with savory taste that lingers on the lips without being overpowering, these are truly unique and memorable cigars. Perfect for the 19th hole or sitting around a fire pit with friends and a fine scotch.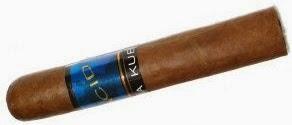 Rocky Patel THE EDGE Cigars
Why are the Edge considered among the hottest cigars in the country? Bold, spicy flavors offer a hearty experience. Like taking that 200-yard carry over the water to cut the corner, this cigar is more for the experienced palate.
Perdomo Double Aged Cigars
This vintage, handmade cigar should be enjoyed on a venerable golf course like St. Andrews. Nicaraguan fillers aged for twelve years - 
Perdomo Double Aged Vintage tasting notes read, "A smooth smoke with a creamy complexity, slight hints of caramel and cedar with a rich buttery finish." Limited release for golfers with a good grip on their game.

Cigar aficionados should also bring the essentials to the course - don't forget a butane lighter, cutter, mini humidor for your golf bag (you will definitely want to offer stogies to your mates) and why not consider a utility gadget like a cigar holder - a nice, safe place to stow your Kuba while you make that miracle putt?
Find great cigar deals online at Famous Smoke Shop and read their blogs for tips on top dessert cigars, understanding complexity, how to choose the best gifts for the cigar smoker in your life and more!
Do you have a favorite Cigar that you smoke during your round or at the 19th hole? Tell us on this Golf for Beginners blog or on Twitter @Golf4Beginners.