School is ending soon, and you fear that your kids will be bored this summer. Not to worry! Summer's warm weather and long daylight hours provide abundant opportunities for fun activities. Here are five of them to bring you and your family closer this summer.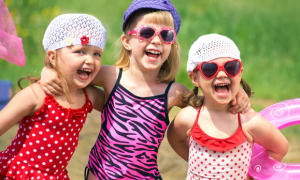 Swimming
For many children, swimming is the highlight of summer. Plus it's a great way to get your family out of the house on a hot day. If your city or town doesn't have a pool you can go to a lake, river or the ocean. If your kids haven't learned to swim yet, it's a good idea to enroll them in swimming lessons.
Baseball
Few things are more emblematic of summer than baseball. Many people have fond childhood memories of sitting in the stands on warm summer nights and cheering on their favorite team. Even if you don't live near a city with a major league baseball team, you can probably find a minor league game in your area. If your family would rather play baseball than watch it, you can sign your kids up for a local team.
Dance Classes
Another good way to keep your kids active in the summer is to enroll them in dance classes. Many communities offer a wide variety of dance classes for children. Popular styles for kids include ballet, tap, jazz and hip-hop. Dance classes are a great form of exercise and will help to improve your kids' motor skills. Also taking a dance class will give your children the opportunity to make new friends.
Vacations
Popular family vacation destinations for the summer include theme parks, national parks and resorts. If you can't afford an expensive vacation, you can take your family on a weekend trip to a local attraction. It's not the amount of money spent but the quality of time spent together that counts.
Camping
If your family loves the outdoors, going camping can be a great bonding experience. Even if you live in a city, there is probably a state park near you that has campgrounds. On a camping trip, you can teach your children valuable outdoor skills. Or you can just have fun roasting marshmallows and telling ghost stories around the campfire.
There are many ways for your family to have fun this summer. The activities on this list are popular with many people and should give you some good ideas about planning fun activities for your own family.