I am so excited to be hosting author Elizabeth Marx the week she releases her latest novel, STAINED!  I have been a big fan of Elizabeth's for a couple of years now. We're both members of many of the same online writers groups, and Elizabeth has always been so gracious sharing all she knows about promoting with other authors. She's awesome like that, but also as a writing talent. Take a look at the excerpt at the end of this post and just try and disagree with me. Impossible!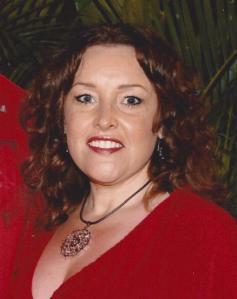 Before we learn more about Elizabeth and her writing, here's how to find her on the web:
http://www.elizabethmarxbooks.com
http://www.facebook.com/AuthorElizabethMarx
http://www.amazon.com/author/elizabethmarxbooks
And here's more to know about her:
Windy City writer Elizabeth Marx brings cosmopolitan life alive in her fiction—a blend of romance, fast-paced Chicago living, and a sprinkle of magical realism. Elizabeth resides with her husband, girls, and two cats who've spelled everyone into believing they're really dogs. She grew up in the city, has traveled extensively, and still says there's no town like Chi-Town.
And now, the interview!
~~~~~~~~~~~~~~~~~~~~~~~
1. Can you share what inspired you to write STAINED? And why this excerpt?
I wanted to write a love story about two people who fell in love in childhood. Many romances today are the fall hard and fast kind. Of course there is nothing wrong with wham-bam-thank-you-mam love affairs, but I wanted to examine the relationship between two young people who were meant for each other but something huge stood between them and their happily ever after.
I picked the excerpt I will share below because it shows the depth of Revell's affection for Scarlett, he's older and more experienced, but shows her he loves her by not taking advantage of her. Enjoy!
2. Did you always know you'd be a writer? If not, what did you think you were going to be?
I think I always wanted to be a writer, but I thought I was going to be a lawyer. My husband still says I missed my calling as a lawyer because he's never won a fight. LOL! Anyway, I went to business school and then interior design school. I worked as an interior designer for several years before I tried to write a book. The box-under-the-bed-book is still there collecting dust bunnies.
3. What are you doing when you're not writing?
When I'm not writing, I'm usually at some sort of a sporting event that one of my daughters is participating in. I have a junior who plays travel softball and a six-foot tall eighth grader who plays travel basketball. I've traveled from the east coast to the west following a ball. I also enjoy seasonal and holiday decorating. My youngest is a fashionista and I'm teaching her how to sew (which I barely know how to do myself, but she doesn't know that yet).
4. Can you tell me how you grew such an amazing Twitter following—and how I can grow one like yours?
Twitter is a beast that can take on a life of it's own. It's a trending machine, so what I've noticed is that each new milestone I hit my following grows larger. Plainly put, follow people. Search for topics related to your books, for example BINDING ARBITRATION is about cancer, so I put cancer into the search bar, when the results come up I hit the "all" button and then I read through tweets when I find someone interesting I follow them. It's really that simple. Plus once you get to about 5,000 followers many more people start following you organically. If you're on Twitter, take a moment to follow me http://www.twitter.com/@emarxbooks Asking nicely helps too!
5. Your cover art is stunning. Can you tell us the process of how it came together?
I started with this photo of a couple standing back to back by photographer Amber Aileen. This is a real couple in Texas. Then my cover artist made me some proofs. I told her I wanted a musical feel because the background of the story is laced with Sacred Harp music. We enhanced the purple in the photograph to give it a younger vibe. Then my cover artist Alexandra Fomicheva made the awesome back cover and beautiful promo pieces.
Bonus: If this book was a movie, who would star in it?
Check out my STAINED Pinterest board to see my dream cast and many of the locations featured in STAINED! http://pinterest.com/elizabethmarx/stained/
Buy STAINED:
Amazon: http://www.amazon.com/dp/B00EN6LKIS
Barnes & Noble: http://www.barnesandnoble.com/w/stained-elizabeth-marx/1116523855?ean=2940148608387
KOBO: http://store.kobobooks.com/en-US/ebook/stained-6
~~~~~~~~~~~~~~~~~~~~~~~~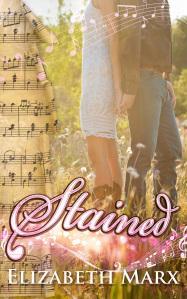 About STAINED
What happens when your darkest truth is revealed to the world?
Scarlett Marbry was just sixteen when her mother, an acclaimed Sacred Harp singer, committed suicide in front of her, sending her running from rural Alabama and the darkness that pushed her mother over the edge. Now, after five years of building a fragile cage around her heart to protect herself, she must return to Crossroads for her grandparents' funeral. There, she'll not only be forced to deal with the reality of her deep Southern roots, but she'll have to face the one she left behind.
Revell Marshall is used to working with fragile objects. He's built a life and career around reassembling the delicate stained glass windows that have put Crossroads back on the map. He's also been pining for Scarlett all these years . . . Determined to win her heart, he helps her piece together the facts of her mother's past. Except these revelations, once exposed, could set Scarlett on the downward spiral she barely escaped the last time. Especially when the truth that stained the past may be the same one that shatters her faith in the one person she thought she could trust . . .
~~~~~~~~~~~~~~~~~~~~~~~~
Start Reading STAINED Now!
REVELL
When I took a step toward her she took a step back. I glanced around and found an old blanket folded in the corner. I moved and picked it up, shaking out the debris before I held it open for her. After Scarlett moved to step into its warmth, I stepped back. "Take off your wet gown or you'll catch your death."
Her gaze locked with mine and my racing heart sped up a few notches.
She arched a brow. "I might catch something much worse if I do that."
"I promise to be a perfect example of genteel masculine behavior," I said without breaking eye contact.
Scarlett chewed on the inside edge of her bottom lip. Shivering again, she turned away from me and pulled the gown up by the hem. As the flickers of lightning illuminated the sky, I caught flashes of the curve of her tan hips swathed with damp patterned cotton. The muscles in her back stretched and surrendered as she wiggled the soaked gown over her head, and the fall of her hair tumbled over her back and clung to her backside as she bent, trying to save the strawberries from hitting the littered floorboards. When she stood back up, she glanced over her shoulder. I took a deep breath and stepped up behind her, placing the quilt around her trembling frame.
As soon as her fingertips brushed the quilt I stepped away.
It was only to the far wall, which was about four feet away, but I needed the distance. Below us the bear head-butted the tree and growled in frustration, and I knew exactly how he felt.
Scarlett leaned over the wall and looked down at the animal. "We're going to be stuck here for a while. Last time he didn't give up until the next morning."
I needed to keep my hands busy so I wouldn't put them on her, so I took off my shirt and twisted it to wring it out. "On familiar terms with this bear?"
She spun away from the opening and rested her rear end on the ledge before pointing out the window. "That one yes, you on the other hand I'm not so sure about."
I tossed my shirt over a low stool and walked toward her. "I'm a bear you can tame," I said, hugging her to me. Her nose was in the center of my chest and she sucked in a deep breath. I tried not to react, but I wasn't exactly immune to having an almost naked Scarlett in my arms when I'd spent a considerable amount of time contemplating the possibility. We slipped to the floor and I held her close until she stopped shivering. I rested my head on her head, and once she was warm she pulled her nightgown toward us, picked out a strawberry, and bit into it.
"I hope your midnight snack was worth it," I murmured into her hair.
She held up the strawberry to me. I looked at it, and then at her mouth. I decided I wanted her lips more than any fruit ever conceived, even if it was forbidden. I brushed her lips tentatively at first, but then Scarlett brushed her tongue across my lips and she took control of the kiss. She tasted ripe and when her mouth opened for me I thoroughly explored it. It didn't take long before we were both panting as aggressively as the bear was below us.
Scarlett pulled away. She smiled up at me tentatively and murmured, "Comfort me with strawberries, for I am sick of love."
That was a line of the song that she'd been singing earlier, and I quickly thought of another of the lines. "And her fruit was sweet to my taste."
"You know the song?" she asked.
I put my hand on her face and brushed my thumb over the crest of her cheek. "I know you, I know about everything you love."
"Why?" she asked.
"Because I've always known you were the one for me."
I thought she'd laugh or accuse me of using a line on her. Instead she became very still and she thought for long moments. "Be careful what you wish for."
"I don't have to wish for you all I have to do is prepare for you."
"But why?"
"Because one day I hope to be one of the things lucky enough to have your love."
Scarlett didn't respond; she strummed her fingers over my deltoid in time with the rain-pattering overhead, as if she was giving me time to take it back or reconsider. Finally, she sucked in a deep breath and sighed. After a while she slipped into a deep sleep.
For some people love is like a lightning bolt, it strikes and if you're lucky the love doesn't fizzle out. My love for Scarlett was like a steady downpour that soaks you through to the bone, no matter how you try to dry your saturated skin you can never get yourself completely free. When you're separated there is nothing that can push the longing for the rainstorm away and you curse the sunshine. Then you see her again, the skies open up and you're sopping wet all over again. There's no raincoat, umbrella, or goulashes strong enough to stop the storm of desire from filling up every crevice of your soul.
That night, while I held a sleeping Scarlett, I vowed that Scarlett's love wouldn't escape me as easily as Mazey Grace had somehow slipped between my daddy's heartstrings. One day I would have Scarlett's love. I might have to wait for her to grow up, hell she was a minor and I was a grown man, but one day Sister Scarlett Marbry would love me more than anything else in this world.
~~~~~~~~~~~~~~~~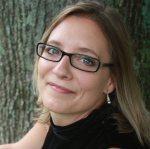 Let's connect! Find me on Twitter and Facebook, and email me: [email protected].