This Five Brothers Bourbon is a new, KY-only, bourbon from Heaven Hill. It's available at their gift store and select retailers in KY. I haven't visited Heaven Hill yet, so I didn't get this on a trip, it was sent to me by the good folks at HH to get my thoughts and opinions on. And since that's basically the crux of this site, it seemed like a good fit for coverage.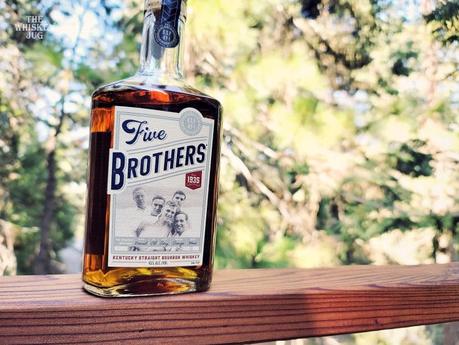 The bourbon itself is your standard Heaven Hill. What makes it different and interesting is the blend of ages in the bottle. The whiskey in here is a blend of bourbons aged 5,6,7,8 and 9 years; 1 year for each of the founding brothers – hence the name. It's neat to see a bit of real history woven into a new release, but what's even better is when that effort results in a good whiskey. As always, that's the question at hand.
Is this a gimmicky release, or is this actually worth picking up if you're traveling to KY and/or the distillery? Let's get to drinking and find us an answer.
Five Brothers Bourbon – Details and Tasting Notes
Whiskey Details
Region: Kentucky, USA
Distiller: Heaven Hill Distillery
Mash Bill: 75% corn, 13% rye, 12% barley
Cask: new charred oak
Age: 5 Years
ABV: 45%
Price: $60*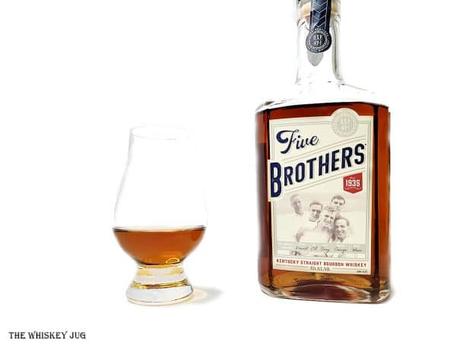 "Bottled at 90 proof to reflect the initial proofs of Heaven Hill releases in the early stages of the distillery." – Heaven Hill
Tasting Notes
EYE
Amberish brown
NOSE
Oak, baking spice, roasted nuts, vanilla, caramel, dried dark fruit, dried apples, cocoa and some notes of copper and hay.
The similarities between this and the EW 1783 are undeniable, but this carries more oak and more of that dark heaviness.
PALATE
Oak, peanut brittle, baking spice, vanilla, citrus peels, dried dark fruit, dried apples, cocoa and some notes of copper and hay.
A bit more fruity than I was expecting, but not at all distracting or overpowering. Quite the opposite, the notes work very well in this Five Brothers Bourbon.
FINISH
Med-long -. Peanut brittle, oak, fruit, char and some copper on the fade.
BALANCE, BODY and FEEL
Good balance, med-full body and a warm spicy feel.
---
Five Brothers Bourbon – Overall Thoughts and Score
Right off the bat, I can say, I don't think this is some ridiculous gimmick. They actually put good barrels in here and it's not just an assortment of "whatever" casks they had around to make it; it tastes, and smells, good. I would happily drink this any night.
In fact, the more I drink of this Five Brothers Bourbon, the more I enjoy it. Adding some water, just for kicks, was interesting as the peanut brittle took on more of a peanut butter note and a stronger sense of cocoa and copper both came out. It didn't upturn the profile or anything, just interesting to note.
Another interesting note is that it works incredibly well in an old fashioned. It's obviously warm and oaky enough to be a great sipping whiskey, but I'm really enjoying making cocktails with it. Versatile and tasty, this is the kind of whiskey I'd be happy I picked up in a distillery gift shop (or select KY retailer).
SCORE: 3.5/5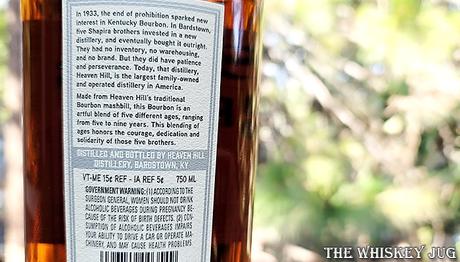 Five Brothers Bourbon Review
$60
Summary
A bit surprised at how much I'm enjoying this. It has depth and complexity and is a versatile whiskey for the home bar.
Overall
3.5
Nose

(3.5)

Palate

(3.5)

Finish

(3.5)

BBF

(3.5)
Sending
User Review
0

(

0

votes)
Comments Rating
0

(

0

reviews)

''