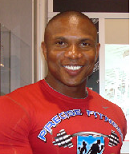 So you have gained a few pounds over the years and now you are having a difficult time losing the weight.  You are trying to lose that stubborn belly fat, cellulite, or weight in those stubborn areas where fat seems to cling but nothing seems to work with exercise and diet.  Maybe you are in good shape but just want to take your fitness to the next level.  Maybe you should consider a personal trainer in Virginia Beach!
Whatever your reason, you should consider a certified personal trainer.  Precise Fitness specializes in "precise" exercises that are designed to get "precise" results.  We spoke to owner and founder of precise fitness, who is one of the top personal trainers in Virginia Beach to gain better insight.
You will be blown away with what this innovative trainer is doing with health and fitness.  View precisefitness.org or call him at 757-333-0983 for more information. 
Once on his website, you will find a wealth of FREE resources on topics ranging from physical fitness, nutrition, diet, workout programs, physical activities, group fitness exercise, and boot camps. 
Precisefitness.org is a non-profit organization and Lawrence is currently in the process of obtaining a Nonprofit 501(c) 3 status for tax-exempt purposes.  His main objective is to provide additional FREE personal training and boot camps to the citizens of Virginia Beach, Chesapeake, Norfolk, Suffolk, Newport News, Hampton, and Portsmouth. 
"It is simple," he said. "I have a passion for fitness and I enjoy helping people lose weight, tone, and get healtht.  I am always asked about personal training and physical fitness therefore, I placed a large amount of information on precisionfitness.org to educate people on reaching their fitness goals. My personal training in Virginia Beach approach is also about giving back to the community through providing free information and fitness education."


As you can see from Lawrence's photos, he is very active in the community and takes the personal trainer in Virginia Beach profession very seriously.  He has also been serving in the military for over 19 years and devotes most of his off time inspiring people to exercise daily.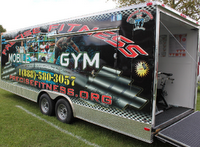 Precisefitness.org also has a customized mobile gym.  The main purpose of the mobile gym is to bring the gym to people that are disadvantaged such as seniors, handicap, low income families, and for charity events such as Breast Cancer and Special Olympics.  If you view the event schedule on precisefitness.org, you will see upcoming events, personal training, booth camps, group fitness or any other events in the Hampton Roads area. 
Lawrence also created a Letsmove757 initiative that is aligned to First Lady Michelle Obama's Lets Move campaign to tackle childhood obesity.  The goal of this initiative is to make Hampton Roads one of the fittest and healthiest places to live in America.  Precise Fitness has now expanded personal training to other cities: Williamsburg, Virginia Beach, Chesapeake, Norfolk, Suffolk, Newport News, Hampton, and Portsmouth. 
No matter what your fitness goals, check out precisefitness.org and learn more about Lawrence and what a personal trainer in Virginia Beach can do for you.