Fit, Fabulous & Fashion Forward


Over the last few days I have been a little strict with my eating and exercise habits. Why, I hear you ask? Well, aside from the fact that I'm feeling extremely unfit watching Team GB bring in all those gold medals at The Olympics in London, whilst I sit on my bum and do nothing it's all because I'm moving to

Newcastle in a few short weeks to start my degree in Fashion Communications at Northumbria University, and I wan't to make sure that I'm nice and fit again before going down there and meeting new people. It's not exactly news to those of you living in the UK, but for the international fashionista's out there, Geordie's (that's the name for those from Newcastle) are known for their fake tans, eyelashes, acrylic nails, skimpy outfits and last but not least, muscles. The men, anyway. In the hit MTV show Geordie Shore, all you tend to see the lads do is hit the gym, kiss their muscles and jump into bed with a lovely lass or two. Oh, and drink like little fishes. Not exactly a charming portrayal of Newcastle, but that's what happens on TV. 

Anyway, due to this fitness freak 

stereotype

, naturally I've been trying to improve on myself if you life, so I've been getting back into my fitness regime. I plan to start hitting the gym 4 - 5 times a week at uni (I like using the gym to release stress and tension from my studies), so starting on my fitness now means that it won't be such a shock to my system in a few weeks time. That's the plan anyway!

So where does this all fit in with fashion? Well, obviously you like to wear something stylish when you're running your little ass off down the road in front of the whole world. No? My favorite sportswear brand at the moment when working out is Nike, and it's not just because they have the sexiest 

luminous

 running shoes. It's because their motto is 

Just Do It.

This is the mantra that plays over and over in my head when I'm having my behind kicked by the one and only Jillian Michaels in her 30 Day Shred workout dvd. When I'm half way through those pesky 

lunge's

 with bicep curls and all I want to do is sit on the sofa and develop into a couch potato, that 

motto

 of

Just Do It

plays on a loop in my mind, helping me to just push past the pain and get to the end of the workout.

Their workout gear is equally as helpful and I love it that much I've decided that it deserves a little appreciation post here at Vita di Moda.

Let's start with footwear. I'm a runner. I love the treadmill, the roads, anywhere that I can run, so footwear is a biggie for me. Nike Free is the range currently hitting the spot for me: especially seeing as you can 

customize

 every detail, right down to putting your own iD on the tongue of the trainer. I made a little pair just to show you what I mean: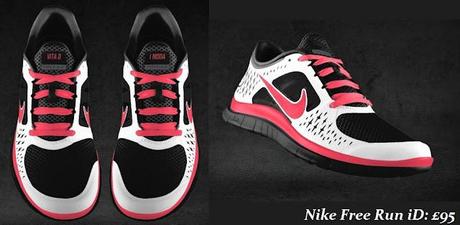 This particular pair comes to £95, but your own could differ in price due to your own preferences - i.e: there is the option to have reflective material rather than 

matte

 etc. This design was just done quickly to show you the design of the shoe in general, but with more time I would probably have mines all pink with a black tongue and sole, just because I like to wear head to toe black, and then pop the outfit with bright trainers. Whenever Nike say they offer a 'barefoot' range, trust me, they mean what they say. I absolutely love my Nike's whenever working out/running. They're comfortable, flexible and above all, worth every single penny. I really do recommend investing in a pair for yourself if fitness is something you enjoy or take part in quite regularly. You won't regret it.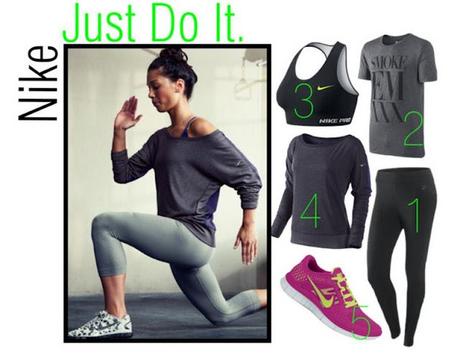 Next up is the clothing itself. Like I said before, I like to wear black when I work out and it has to be tight fitting, but flattering at the same time. For me, there's nothing worse than working out with bottoms that have flares at the ankle, or baggy tops. 1. I get too hot and sweaty for anything baggy. 2. I don't wear flared trousers or jeans when I'm doing general day-to-day things, so I'm not going to wear flared bottoms when I work out. My preference are tights. They're basically just leggings with reflective panels or logo's. Some may have little zip pockets to keep keys etc. If you're going to workout, you need a good bra: I don't know about the boys, but us girls need something that's going to keep us secure and comfortable. There's nothing worse than doing a set of jumping jacks and your chest feels as though it's about to be ripped from your body. Oh! and then the bra straps fall down half way through a downward dog pose during yoga. Ugh, just not fun. Nike sports bra's are perfect for the job and are that comfortable, my fiance complains that I wear them too much in place of my normal pretty, lacy bra's. T-shirts. That's something we need if you're not exactly comfortable with just wearing the sports bra. Not until you have those wash-board abs at least. Now, I know I said that I like tight fitting workout gear, but whilst browsing images from the Fall LookBook at Nike, I came across the long sleeve training top (number 4) and just fell in love with it. I would wear that even when I wasn't working out. The t-shirt next to it (number 2) with slogan "Smoke Em XXX" is just so fun and motivating that I think I'll just have to buy it sometime soon. It actually makes me think of something that the Victoria's Secret Angels would endorse whilst working out, don't you think? 
If you're wondering where to buy any of the items shown in the image above, here are the links you'll need:
1. Nike Limitless Leggings - £28 2. "Smoke Em XXX" T-shirt - £28 3. Nike Pro Hypercool Sports Bra - £28 4. Nike Uptown Epic Training Top - £50 5. Nike Free Run +3 - £80

Overall, I just love the products available from Nike. They live up to the hype, give a great performance and help us to look stylish and comfortable at the same time. What else could you wish for from your workout clothes? 

What do you think of the workout/sportswear at Nike? What do you wear when you workout?