First Thing is a feature I run on my blog from time to time to interact with people in my Twitter timeline. The premise is simply to state the first thing that comes to your mind when I say _______? (The blank can be anything cinema related) The only catch is that the answer has to be in only one sentence.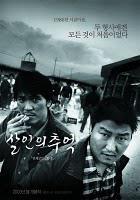 Memories of Murder
So, continuing with my somewhat repeating feature I present to you the "First thing that comes to your mind when I say KOREAN CINEMA";
@T_J_atkinson - Unsurprisingly, I think of OLDBOY
@PopcornJunkies - The Host
@ArcaneMovieTees - The Vengeance Trilogy
@FilmSamurai - Revenge Films
@DrunkonVHS - I find Korean cinema new and exciting, it's one of the few areas I haven't thoroughly explored.
@Discuss_Cinema - The Revenge trilogy of Sympathy for Mr Vengeance, Oldboy and Lady Vengeance.
@reviwer - Currently leading in the world of cinema. Standard of films just keeps getting better.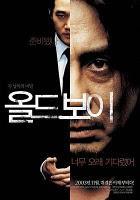 OldBoy
So it seems that "Revenge" films and the Vengeance Trilogy are the most common answers. I have to confess and say that I am yet to watch the entire Vengeance Trilogy (having only seen Oldboy), but I'll be bumping the trilogy movies up in my must watch list.
Korean Cinema is something that has amazingly taken over the cinema world over the last decade. What surprises me is that it is yet not commercial in most countries. These movies have been doing the festival rounds and have gained more success by word of mouth rather than self promotion. I also find that Korean Cinema is much more gutsy and ballsy than any other cinema around. Be it gore, sex, or violence, everything is more realistic and in plenty. Credit also goes to the directors and writers that are making original cinema with striking camera work or plot lines.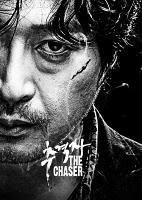 The Chaser
As for me, I was totally won over by The Chaser which remains one of my all time favorites. My Sassy Girl is probably one of the most refreshing romantic comedies out there even now. I recently had the pleasure of viewing The Man From Nowhere and A Bittersweet Life which have some amazingly iconic moments and Memories of Murder which is a movie based on a real-life unsolved serial killer case.
So if you have a Korean Film that you swear by and want others to experience, feel free to mention it in the comments box below and let us support a budding and brilliant cinema industry.

  
Note from the Author:
Everyone mentioned above are great film bloggers and/or tweeters and I recommend following each and every one of them (not in real, just on twitter). You can simply click on their names to go to their respective twitter timelines.