My local paper said they might be able to use some of my ramblings, so I sent off the first article last week – and it went in. Rather nice too! a whole half page spread

I'm not getting above myself though – I made it to ASDA and back last night and didn't get papped or anything

Hi – I'm Lynnette. I'm a keen gardener and chicken keeper extraordinaire, but results are more by luck than judgment. I read all the books, watch all the shows, then ignore all the advice. I have an ever-expanding vegetable plot, a greenhouse (new this year), and three chickens. We did have four, but we lost Aggie recently. Our eggs are actually more valuable than gold dust, as only two of the hens have ever laid reliably – the other two have tended to just eat, poo and perch. But they are happy.
I did read up on crop rotation, where different types of plants need to be planted in a different place each year, and drew up a four year plan. This I kept tucked in the front of my gardening book. My family obviously don't take me seriously enough, as the next time I looked at the plan, on the diagram of Year One,  the words 'roots' 'brassicas', 'legumes' and 'potatoes' had been substituted for 'bananas' 'apples' 'oranges' and 'coconuts'. The joy of having teenage sons.
A lot of gardening information consists of people telling you the 'best' and the 'right' way to garden. Deep down, I believe that plants actually want to grow, and that some of the faffing around that you're told to do is probably unnecessary. So a lot of the time, stuff gets chucked in, watered for a bit, then I hope for the best – and expect instant results. This article is a light-hearted look at the funny things that happen in the garden, when even the best laid plans can go awry.
Having said that, I once scooped second prize for 'Longest runner bean (in good condition) in the Earl Shilton fruit and vegetable show.  My moment of glory was almost scuppered though, as we had mistakenly picked and eaten the official longest bean the week before. On the morning of the show, I was frantically searching around for stunt-double beans, and luckily found a couple of likely suspects lurking in the middle of the canes. I almost resorted to 'borrowing' some from a friend, but would I be able to live with myself if I won with a bean that I hadn't even grown?
So, there I was, setting out Larry (after all the hype and build-up, the bean now had a name) to show off 'his best side', when I looked around and realised the extent of the competition. There were pristine onions arranged in sand, with their tops tied up; cabbages that had never even sniffed a catapillar; carrots of equal length and glossiness – and I swear there was a marrow I could have sledged home on…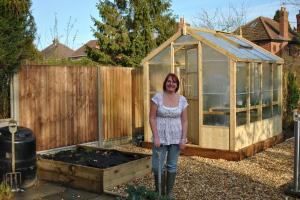 Advertisement