Well we had our first official workday for the new school year.
We had a productive day and managed to strip down Axiom in a few hours. Lately we have been focusing on weight reductions and so in the process of stripping the car we weighed many of the components. We have identified some key areas for weight reductions and have already started to come up with ideas to accomplish goals we have set.
One example is the battery box lid. We remade the battery box lid with less Kevlar and epoxy and managed to trim about 1 lb off the old lid weight! For something as small and unassuming as the battery box lid this is a real savings! We even decided to include a beautiful looking carbon fiber lightning bolt in the design.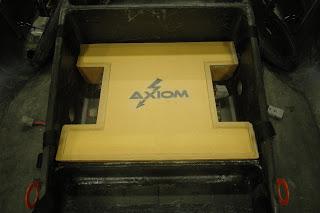 The business team also joined us in the morning (which unfortunately I don't have any pictures of) but they proceeded to get down to well... what did you expect... business!
Unfortunately all of the pictures I took were later in the day as I was busy in the morning with getting the rest of the electrical team up to speed on soldering solar cells, making modules, and taking apart one of our motors for inspection.
Later in the day though I caught this interesting sight of some Mechanical team member's discussing something quite vigorously.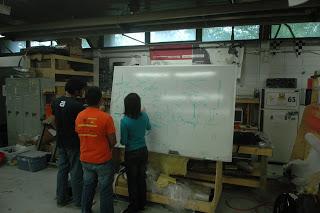 (From left to right) John, Mico, Yanyi
See Ya!
Tim Gamber
Electrical Engineering Manager