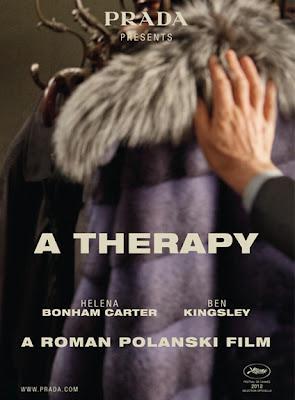 Prada's latest ad campaign was met with 'rapturous applause' yesterday at the 2012 Cannes Film Festival. The three-minute short, directed by Roman Polanski and starring Helena Bonham Carter and Ben Kingsley tells the story of a woman (Bonham Carter) clad head-to-toe in Prada, telling her troubles to psychologist (Kingsley) who happens to be more interested in coat hanging on the door - who wouldn't?Kingsley (who is too sporting head-to-toe Prada) becomes so enthralled by the coat he stands up, caresses it and tries it on, before the tag line reads 'Prada suits everyone' 
I actually found myself really liking the ad and think its just a really fun, refreshing way to shoot the campaign. I was glad there wasn't too much branding which is what I was a little afraid of before waching it but Prada and Polanski kept it fun and light-hearted. A Prada spokesperson said: "We wanted to keep it light and funny, we see this as a film, not an advertisement."

See the film here, or head to the Prada site for more info on the ad, cast and crew and exclusivebackstagephotos. 
What do you make of Prada's latest campaign?