Christmas is just around the corner and for a change I've decided to get myself organised early, and so should you! Shops, adverts, pretty much everywhere you look, Christmas is in your face so why not embrace it early and get your list together. Over the next few days I'm going to be posting gift ideas and who better to start with than us, the girls...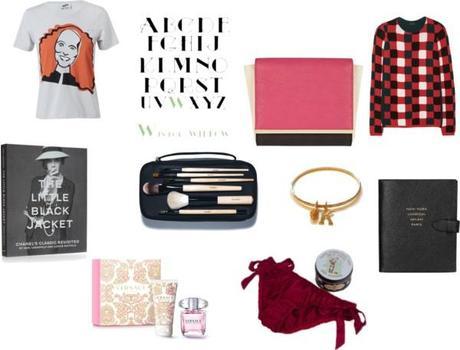 SHOP THE EDIT: Clockwise from top left: Grace Coddington Tee, Browns, £75; Personalised Frame, Through The Looking Glass, Prices on Request; Leather iPad Case, Five Five Fabulous for River Island, £17; Cashmere Blend Sweater, Marc Jacobs, £580; Runway Leather Notepad, Smythsons, £80; Personalised Gold Bangle, Belle Ami, £14.50; Pin Up Pants Tin, December, Playful Promises, £20; Make-Up Brush Set, Bobbi Brown, £142; Versace Bright Crystal Fragrance Set, Harvey Nichols, £47; The Little Black Jacket Coffee Table Book, Net-A-Porter, £65

Will you be buying any of these products? What is your Christmas list?