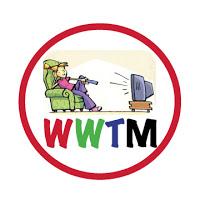 The answer to Thursday's Trivia Question: Godfather 2 and Lord of the Rings: Return of the King were the only 2 sequels to win a Best Picture Oscar FIRST FIVES:  Lillian Doremus, Alex Nagler, Bobby Aguilera, Jim Carter & Justin Jones Honorable Mention: Michelle Mullings Wednesday's Broadcast Top 5 American Idol-FOX 4.1/14.2
Modern Family-ABC 3.9/10.5
Criminal Minds-CBS 2.7/10.7
Survivor-CBS 2.5/9.4
CSI-CBS 2.3/10.5
Wednesday's Broadcast Trendrr Top 5
American Idol-FOX 135,503
Supernatural-CW 36,454
Law & Order SVU -NBC 32,518
Modern Family-ABC 24,711
Criminal Minds-CBS 20,467
Wednesday's Cable Top 5
The Big Bang Theory0TBS 1.3/2.9
NBA-ESPN 1.1/2.2
American Dad-Adult Swim .9/1.9
The Americans-FX .8/1.9
Top Chef-Bravo-.8/1.7
Wednesday's Cable Trendrr Top 5
NBA Basketball-ESPN 268,436
NBA Basketball-ESPN 95,229
Workaholics-Comedy Central 92,576
Washington Heights-MTV 28,317
My Strange Addiction-TLC 26,347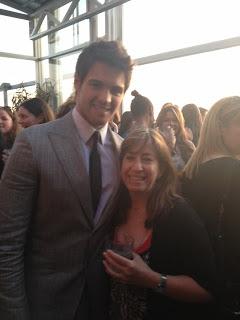 I literally had anxiety waiting for this weeks episode of the Vampire Diaries.  I was really hoping after last weeks episode that one of my favorite supernatural friends would come up with a spell, a powerful ring, some special blood or potion that would bring Jeremy Gilbert back to life.  In Mystic Falls, ya never know when it comes to dead. So Elena, his vampire sister and I kept hope alive, but when we both realized that he was REALLY dead, we both freaked out in different ways.  I screamed at the CW and Julie Plec for messing with me during this very vulnerable period of TV viewing. (First Lady Cybil, then Matthew Crawley and now Jeremy) Elena lost it completely.  So much so, that Damon used his sire bond to turn Elena's humanity off and stop her pain.  Once that was handled, Elena burned down her house with her brother in it.  She's done. The next nervous breakdown went to Matt who I'm pretty sure is now the only "regular" person left in Mystic Falls.  Caroline kept calling Tyler to alert him that all of his friends were in deep you know what, but since he's probably in Bali by now hiding from Klaus, not sure he gives a crap about what's happening back in the hood. Then there's Bonnie who's completely brainwashed by Silas/Shane. To be honest, I don't really understand much of the Shane/Silas thing.  Pretty sure that the real Shane is dead and Silas has taken his form and is now in control of Bonnie.  Vampire isn't back for a few weeks, but I'll use this time to mourn.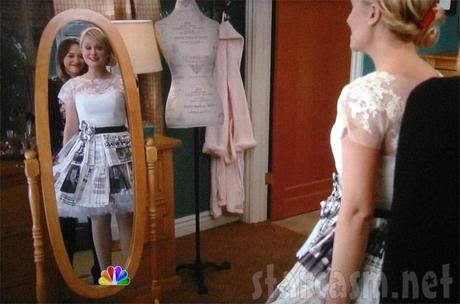 There were 2 episodes in a row of Parks and Recreation. The first one was my favorite of the two.  If you remember from last week, Leslie and Ben decided to get married the same night as the big gala, so everyone was scrambling to get it all together.  Tom went online to get his officiating credentials, Ron made wedding bands out of Ann Perkins sconces, Ann Perkins made Leslie a wedding dress out of Leslie's old flyers, and everything was ready to go. Unfortunately a drunk Councilman Jam ruined the wedding by releasing stinkbombs that he got on Amazon.com (free 2 day shipping).  Ron Swanson, my favorite guy on TV punched Jam in the mouth and they both ended up in jail.  Leslie posted bail and figured that the night was just NOT meant to be.  I was disappointed but thought...good tease guys, but I knew you were really going to wait til May sweeps...but thankfully, a nice surprise for me and hopefully all of you...the wedding did go down in the Parks offices.  YEAH!  Of course the vows were sweet and perfect and ended with "I Love You and I Like You" and were accompanied by a lovely black and white retrospective of Leslie and Ben's life together so far in Pawnee.  PERFECT WEDDING!  What was Leslie's wedding song? Bye Bye Little Sebastian of course!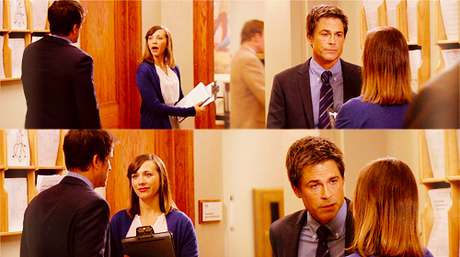 Leslie and Ben returned from their Hawaiian honeymoon in the second Parks and Rec of the night.  As expected they got right back to work.  Leslie was prepping for the Pawnee correspondents dinner but when her jokes were stolen by Pawnee Sun reporter Kim Turlando, she realized that her email had been hacked.  Ann Perkins decided that she wanted Chris Trager to be her baby daddy donor and finally asked him.  I don't believe he has made a decision yet, but it could be hilarious if he agrees to help Ann out.  Ben began his new gig over at the Sweetums Foundation where the owners have huge naked portraits that require pixelazation hanging in their offices for everyone to see.  Ben, Andy and Tom were looking for a charity to support as Ben's first Sweetums assignment. The Clean Sheet Foundation, which provides legal assistance to the KKK" was taken out of the consideration set and Ben went with a rural ambulance provider instead. 
NEWS & INFORMATION:
- I'm happy to report a step in the right direction announced by Nielsen yesterday.  Effective with the start of the Fall 2013 season, Nielsen will measure video viewing on set top boxes, gaming consoles and other video distribution channels like Netflix and Amazon Instant Video. They will include Ipad and tablet viewing as well.  This is really a great news and one small step for man...I guess it's not THAT big, but you get the idea. 
-Nielsen must be crazy busy these days...more new counting going on...this time over in the music space...Billboard and Nielsen will now count YouTube video viewing data in determining which songs make it onto the Billboard Hot 100 weekly charts.  This new methodology will count official music videos and user generated clips that use authorized audio.  Things are definitely changing!  More great news. 
-179.5 million Americans watched 36.2 billion online videos in January 2013 according to comScore.
Top 5: Google/YouTube (150 million unique viewers), Facebook (57 million), Vevo (51 million), NDN (49.1 million) and Yahoo (43.7 million)

- Hope you T.I and Tiny fans are happy...the show has been renewed by VH1 for a third season.  I've never watched this one.  I have a feeling I'd get hooked though. I need more hours in a day.

-America's Next Top Model is coming back for its 20th cycle this Summer but this time...it's guys and girls.  Now you are talking!  Shirtless guys is definitely right any time of the year, but makes sense for a Summer cycle.  Look at Tyra trying to keep it fresh and perhaps use her platform to her advantage.  I bet she's kicking herself wondering why she didn't think of this sooner. -Robin Roberts returned to Good Morning America on Wednesday after being on medical leave for almost 6 months.  According to preliminary ratings reports, 6.1 million viewers tuned in, giving the morning show its most watched episode since the day after the presidential election, November 7, 2012. -To celebrate and launch his new album 20/20, Justin Timberlake will kick it off quite with a big media blitz.  First he'll be the host and musical guest on SNL on 3/6 followed by an entire week on my FBFF, Jimmy Fallon's show.  I cannot wait for this.  I love Justin I love Jimmy, they have done some great things together so I'm sure it's going to be a great week of shows.  I'm hoping for the next installation of "History of Rap".  OMG sooooo exciting! -Well, even though I have my doubts, FX felt good enough about The Americans that they have renewed the show for a second season.  Maybe now they can hit FOX up for some more dough so they can afford to put the 80's music back in to the shows soundtrack.

Friday's Final Oscar Trivia Question:  Who hosted the past 2 Academy Awards? 1 Point for each correct answer! 
BONUS QUESTION worth 5 points...NO GOOGLING! Who hosted the show in 2010?
Enjoy the Oscars! Have a great weekend! WWTM-Kristy