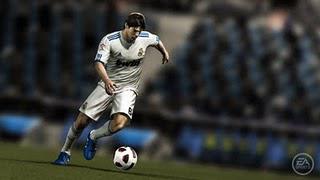 You can click the image to zoom
The time of year has come around when FIFA gamers begin waiting for the next release of the series. The
EA Sports FIFA website
posted the first FIFA 12 screenshot, much to the mixed reaction of fans. While some are glad to get a look at FIFA 12, many and most are not impressed by the screenshot.
While there seems to be graphical advancements regarding jersey creases, there's little else that has improved from FIFA 11. Some are saying that the grass is looking much more realistic, as is the face of Kaka which when zoomed into a claustrophobic degree can be seen as an improvement.
While I'm not too impressed from the screenshot, it's beginning to raise the familiar hype in me. I'm hoping that behind this screenshot there will be a strong improvement in the game's many aspects. Details regarding actual gameplay changes haven't been announced, but news should come sometime next month.
If you haven't got a chance to play FIFA 11, I highly suggest you start. In case you missed it, here's
my review of FIFA 11
. FIFA 12 won't be released anytime soon, as it will probably come out in September or early October, and you'll be able to get plenty of practice time in before the new game is released.