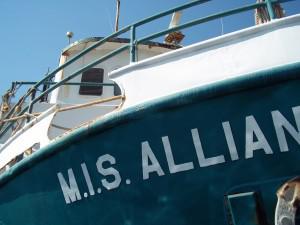 "I'll stay for three days and if I don't find any work I'll move on" I told myself as our car passed a sign that said 'Darwin – 9 km'.  We dropped Julie off with her friends at the beach.  Next Sandra gave Flo and I a short tour of the Darwin CBD and then dropped us off at our hostel.  The hostel is quaint and small.  I like it.  They serve up a free breakfast.  That scores big points.  We arrived at the hostel at seven Monday night, by seven twenty the following morning I was working with a company repairing the docks at Fisherman's Wharf.  I'll explain how this came about.
When Flo and I arrived at the hostel Julie sent me a message asking me if I wanted to meet for drinks.  Instead of accepting I stayed indoors and thought over how I would look for work the next day.  I set out a plan to print out thirty resumes and then hit the streets with them.  Our hostel was located in the heart of the city and as I told Julie several days earlier I had a good feeling about looking for work.  In that same conversation Julie had told me that her friend had scored some work on a fishing boat.  She explained to me that Darwin is a good place to find work of that nature and it reminded me of conversations I had with Dave months ago about his experience doing it.  It is hard work, but it pays well in a short amount of time.  Sounds great.  When I awoke on that first morning at the hostel I decided to skip breakfast and head straight for the docks.  I thought what better way to find work on a boat than to get to the docks when the fishermen do and so I set out for the wharf before the sun came up.
Now mind you this was the first time I had ever been to this city and I had no knowledge of the roads.  My navigational tools were a lone tourist map that I received in Katherine on the way up during the road trip.  The map wasn't even a good map, but a map of local sites to visit as a traveling tourist.  With this trusty map I was able to get to the general vicity of one of four boat docks in Darwin.  I was on my own from there.  I began by walking down the first road that went in the direction of the water but wasn't closed off by gate.  The road was lined with fencing and there were two entrances, one closed off and the other was open.  I went into that gate and had my first encounter with a guard dog who was passive and uninterested when I was within the gate, but the moment I stepped back out went into a frantic fit.