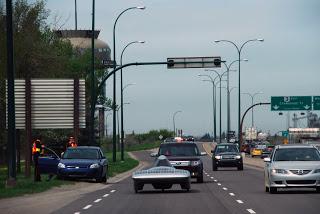 Hi everybody,
this is my first post, so let me introduce myself; my name is Brandon Heenan and I'm the business manager and project co-chair for the team. I'm going to be updating you about our progress on the Schulich Axiom Alberta Tour this week, since the engineers you've been hearing from in the previous posts are busy making tweaks, modifications and fixes to Axiom.
Hopefully you managed to catch our send off on the news yesterday or today, but if not, here are a couple links to get you up to speed:
So we just got into our campground at Oyen after an eventful first couple days. This was the first time we had Axiom running solely under the power of her own solar cells so there were some kinks to work out and we ended up leaving Calgary about an hour after schedule. We had perfect weather for our departure in Calgary but ended up running into heavy rain just west of the city which delayed our first school visit. But once we got there, the rest of the day was smooth. So Axiom had her first school visit yesterday at Notre Dame Colligiate Jr/Sr High in High River. I'm attaching a picture of us there.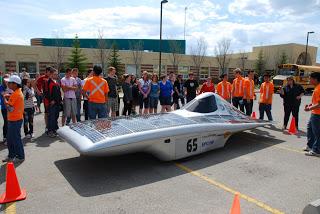 Today, we again had issues in the morning, and blew a switch that controls the flow of power from the solar array. However, once we had that sorted out, we had Axiom cruising at 100 km/h and continued expanding our community outreach program in Alberta, presenting at River Heights Elementary in Medicine Hat. We arrived safely in Oyen this evening, and are busy switching out the motor with another one.
Another note; we really surprised some police officers at a speed trap today with probably the weirdest car they've seen on the job. We got a pretty good picture of their reaction, which I put at the top of this post.
Brandon