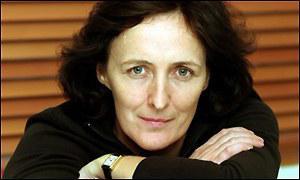 New True Blood cast member Fiona Shaw appeared at the UCLA-run Hammer Museum this past Sunday. She was part of a lecture titled "Shakespeare and Friends, Ibsen and Enemies with Fiona Shaw." Her discussion was to include the importance of language in theater.
Fiona has an extensive career in film, television and in particular, theater. She's taken on roles in "Medea," "Electra," and "Richard the II," famously playing a male role in the Shakespeare piece. Though at this time, she's probably best known for her turn in the Harry Potter films as Petunia Dursley.
Look for her in season 4 of True Blood as Marnie the witch. Surely her experience and talent will be a wonderful addition.
Source: L.A. Times Blogs – Culture Watch: Fiona Shaw at the Hammer Museum
(Photo Credit: Deadline.com)