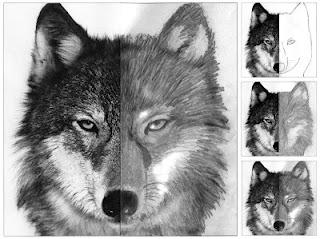 When students have a photo to refer to, I think they are often pleasantly surprised at what they can draw. I created this composite Wolf Photo Template to give teachers an easy way to share this project. 


1.  Students start by looking for the edges of the wolf head, nose and eyes and lightly sketch them in with a pencil.
2. Working in layers, students first create one that is medium gray, and fill in all areas except those that are white.
3. Students look for the darkest grays and add them on top, using more pressure from their pencil. Finally, they may try squinting at their picture to see if they need any final tweaks.