Hey blog buddies. The last 24 hours have been non stop fun and house sitting at a home that has no wi-fi does not make this blogger particularly excited.
Anyways we have a lot of catching up to do…
Lunch (yesterday)
I had a hankerin' for some good old bbq so Dad and I headed over to Salinas City BBQ for some smoked sandwiches.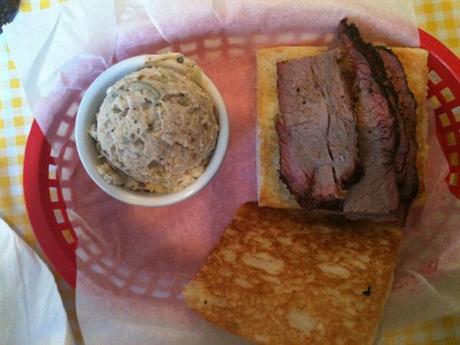 I had the smoked tri-tip sandwich with potato salad. The potato salad here is to. die. for. so I had to have a little. Luckily a little bite won't ruin my intestines in dairy madness.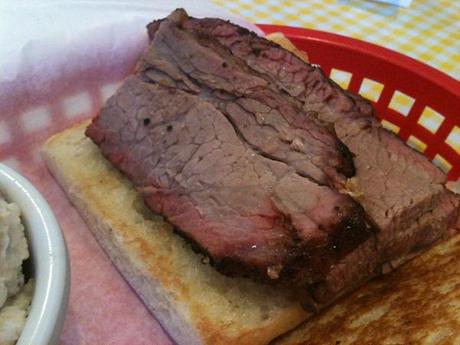 We like our smoked meat over here and this sandwich is pretty darn tasty. Especially doused in their bbq and extra spicy bbq sauces. I put so much sauce on my sandwich that I kept licking my arms before the sauce got down to my pushed up sleeves. Yes, I'm so classy…
And last night I met up with Mr. Max for some dinner before getting back over to hang out with Ace. There has been absolutely no cooking time since I started house sitting on Tuesday. I'm dreaming about whisks, fry pans and broccoli like crazy.
Dinner (yesterday)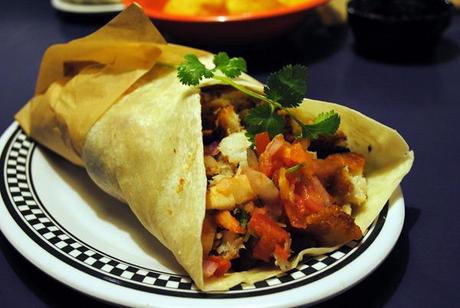 I think the traumatic losses this week made me need some major gluten. I had no will power once I saw the burritos and that they said "a meal in your hand –a party in your mouth!". Now that's awesome!
I had the baja fry wrap which had black beans, white rice, salsa and fried fish. It was exactly what I wanted. I like this little taqueria because everything tastes really fresh and pretty minimally processed. Their beans and rice are so yummy!
Finally we're back to today!
My Dad and I were out of the house at the un-godly hour of 8am. Come on pop's it's Saturday!!!!
We needed to go up to Concord which is about an hour and a half to check out a possible food truck for our tri-tip sandwich restaurant.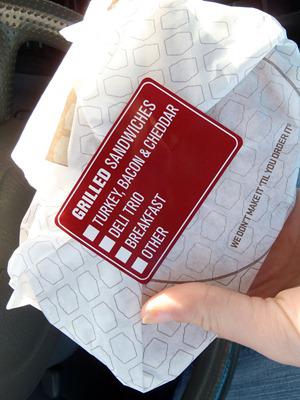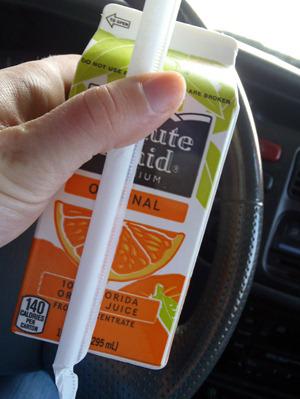 I was so hungry for breakfast we had to stop. According to the Intuitive Eating book, I need to train my body to know that food is available and eating when hungry is a huge part of that. No more deprivation!!!! So, I did the unthinkable.

We went through the drive through at Jack in the Box.

I had the Breakfast Grilled Sandwich with no cheese and half a mini orange juice.
The sandwich was on toasted sourdough bread with a fried egg, ham, and bacon. It was pretty good. Definitely a tasty choice for a breakfast jam.
So…………… Do you want to see the food truck we just might buy?!???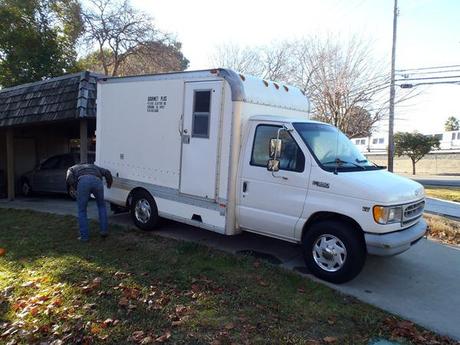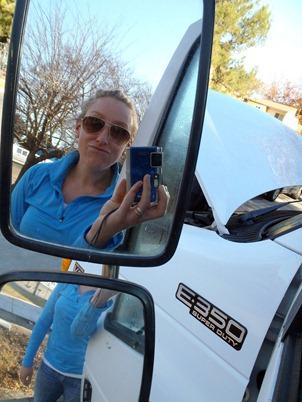 We really really like it! It's smaller than the average food truck but the insides are exactly what we're looking for.
We want to sell smoked tri-tip sandwiches and 2 different kinds of salads, one tri-tip and one veggie. Then chips and sodas on the side so we don't need a HUGE truck with friers, cook tops, tables, etc.
This truck has a work table, a display case that can also be refrigerated and another small refrigerator. So we could hook up our meat warmers and be good to to.
My Dad and I are doing food safety research for Monterey County this weekend and hopefully we'll be driving back up to Concord to get our little food truck by the end of next week. Fingers crossed this little truck is what we need.
Lunch and a sweet treat!
I love myself some bbq! I can't get enough of it and I love licking bbq sauce off various parts of my body. I may or may not be known for finding ways to scrape dripped sauce off napkins……….. it's not one of my prouder traits.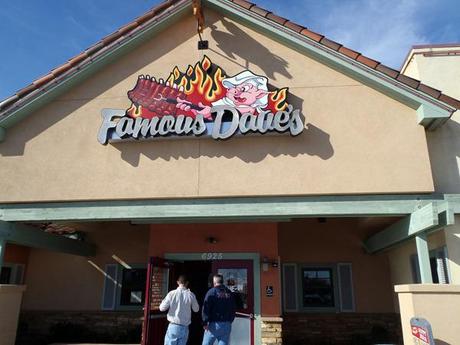 Dad and I ate lunch at Famous Dave's (a bbq chain which is pretty sac-religious for true die hard bbq fans like us, but we heard such great things about that we were too curious to be snooty!).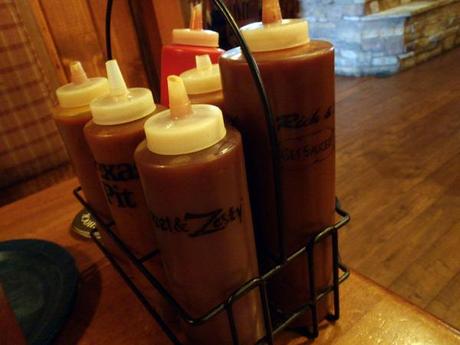 They had 8 sauces including one called the Devil's Spit and Wilbur's Revenge that Dad and I had a blast trying with in house made potato chips.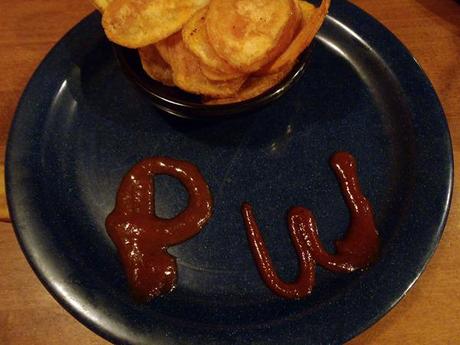 Wilbur's revenge was bbq sauce from Hell!! It was so spicy I drank 8 iced teas trying to cool down. The waitress might have left a pitcher on our table.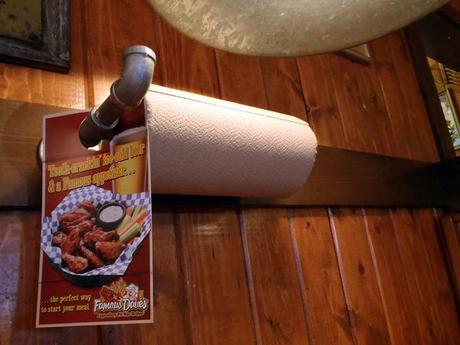 When each table get's it's own towel rack I know I'm in the right place.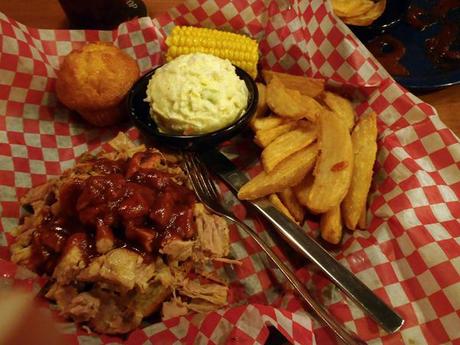 I had the Georgia Sliced Pork which is basically a pulled pork with a sweet bbq sauce on toasted white bread (which I didn't eat, I'm on gluten over load!). It was bomb (dot) com and I licked the red and white checkered wax paper.
The potato salad wasn't worth a second bite, but the french fries were amazing. They were super crunchy on the outside and mushy on the inside. Call it potato heaven!!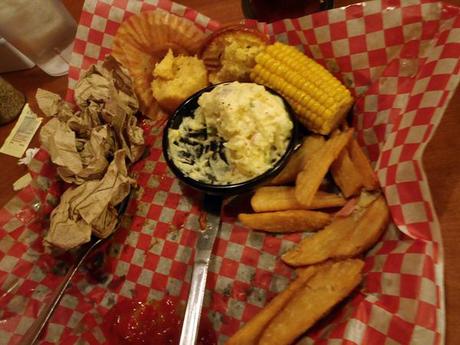 I didn't like my food at all…………..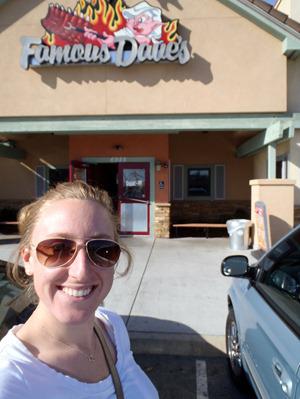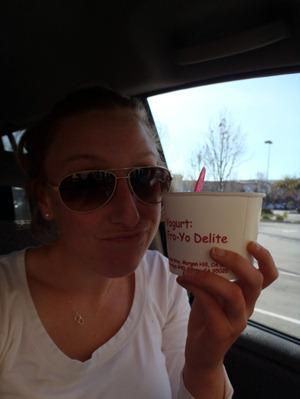 I think it's safe to say I'll be back at Famous Dave's some time. I really want to split the brisket with someone……… any takers?
And we couldn't continue home without a sweet treat.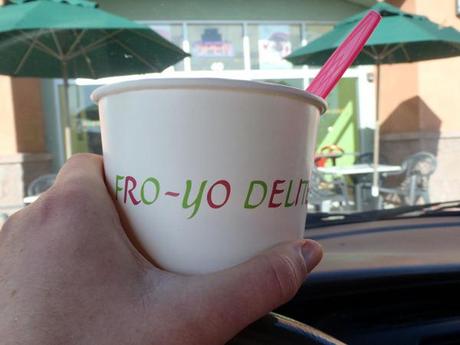 I had Mango Tango sorbet with carob chips.