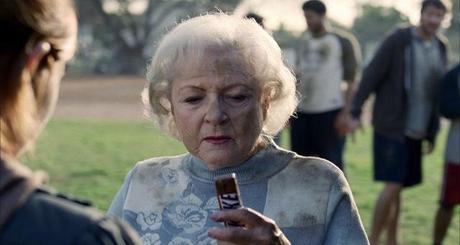 Satisfying Bites From Snickers® 'You're Not You' Campaign
Looking for big-brand brilliance to enhance your own marketing efforts? One tasty example is Mars Chocolate's award-winning "You're Not You When You're Hungry" candy bar campaign from BBDO New York.
Lost And Found
One of America's most beloved brands, Snickers lost its way from 2000 to 2010, forfeiting significant marketshare, revenue and pop-culture relevance.
In their Cannes LIONS Awards campaign overview, campaign managers noted that the once-leading chocolate bar "had been allowed to morph into more of a teenage, goofball brand,"
thus alienating the iconic brand from its broader consumer base.
Sales sagged, competitors surged, and pressure mounted for Mars to stem the decline and reignite consumer interest.
Campaign Cornerstones
Through qualitative research, the agency confirmed that hunger satisfaction was both a key purchase motivator and brand attribute Snickers could genuinely own. Insights gained were tied to creative execution, which centered on the 'universal human truth' that people aren't themselves when they're hungry. 'Symptoms' of hunger—lethargy, lack of energy, diva-like crankiness—became the challenges that munching a Snickers would solve.
Harnessing The Elements
The celebrity-driven 'You're Not You' campaign premiered in 2010 with a Super Bowl TV spot featuring Betty White, and unfolded with an imaginative blend of marketing and social media:
Print Ads—Celebrities possessing universally recognized personality traits were shown doing things that were clearly out of character.
Online—SNICKERS.com featured ads, while online video supported an overall "video" media strategy that pushed :15 Snickers spots out all across the Internet.
Country-specific Facebook Pages—For distributing videos, engaging consumers and fully leveraging the influence and appeal of locally known celebrities.
Twitter—A brilliant execution featuring celebrities tweeting out-of-character insights.
YouTube —Showcased spots on a dedicated channel that invited users to comment.
Results Summary
Complete reversal of sales declines in just three months
13% increase in single-bar sales; 8% increase in overall sales
Over 400 million incremental and unpaid media impressions
An incredible 18,000% increase for Snickers searches on YouTube
SMB Takeaways: The Golden Nougats
Research is important. Know customers' attitudes and beliefs before you drop big marketing bucks.
Integrate with imagination. Challenge your marketing team and creative services provider to be bold in imagining how campaigns come together. You can succeed, even without a Mars-sized budget.
Measuring matters. Build metrics into every integrated campaign to know where and how well your marketing pays off.
The truth helps, not hurts. As Snickers showed, simple ideas, rooted in universal human experiences, can drive real business results.