Whether you are relocating across the country or buying a new home in a community you already know, finding the right neighborhood can be the most difficult part of the process. There is so much data now available online that you can find information on schools, crime, parks & trails, coffee shops & restaurants, arts & entertainment... as well as average age, famlies with children, income, education, rentals vs owned... (check out my Lifestyle Search)...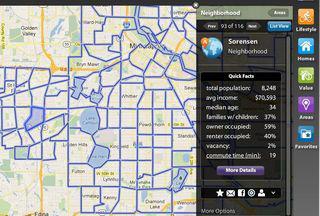 but while all that information is helpful in narrowing your focus, it is only part of finding the right neighborhood for you.
With photos and virtual tours you can almost feel like you are there without ever leaving the comfort of your easy chair. But don't be fooled... virtual isn't reality. When it comes time to actually buy nothing takes the place of actually being there. Any active buyer will tell you that you can be very surprised when you actually visit the neighborhood and home... sometimes it's even better than you expected, sometimes not so much.
Here are two important things you must experience in a personal visit...
Sights, sounds, smells - this is something you will be living with every day, does it feel right for you?
It might sound nice to live near a restaurant, but will constant cooking smells bug you?
Some of the most demand neighborhoods in the Twin Cities have airplanes flying overhead regularly, are you willing to put up with pauses in outdoor conversations to allow airplanes to pass by?
You might love having a view of the lake or river, but will the traffic and activity it generates annoy you?
Neighborhood personality - this is something you must personally experience to see if it feels like a good fit for you... both now and for potential changes in your lifestyle over the time you expect to live there...
Get out and walk the neighborhood at different times of day
Talk to people who live in the community
Walk to parks, coffee shops, schools... visit the local grocery, bakery, other services...
Ride local transit if this is something you plan to use
Get a feel for the personality of the neighborhood, the age and diversity of the people living there
Is this a neighborhood where residents get involved with each other and in the community or more of a 'bedroom' community? which suits you?
Every neighborhood is a good fit for someone... the key is finding the right fit for you.
Sharlene Hensrud, RE/MAX Results - Email- Minneapolis Lifestyle Realtor