More and more I am finding that people are looking for more than just a place to live... they are also looking for 'the right place', a place that feeds their soul. What that is is different for everyone... for one person it may be living in the heart of the bustle of the city, for another it may be soaking in the peace and solitude of a remote shoreline.
Many people are taking advantage of prices and interest rates at record lows to find 'their place'... whether it becomes their primary residence or a 'getaway' destination. Some people head to the city... others away from it.
There is no right or wrong, only what is right for you. You will know in your gut when you find it. I am working with a client right now who knew he had found his 'getaway' retreat as soon as he walked in... a combination of a charming balcony overlooking a small-town main street, ornately carved fireplace, steps from the riverfront, city square nearby with live events and music...

These were things he knew he needed to feed his soul. What feeds your soul? Check back for Part 2 on Friday for some questions to ask yourself to help guide you in finding your soul wellspring.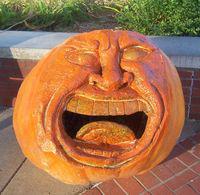 Oh... by the way...
Happy Halloween
!
Sharlene Hensrud, RE/MAX Results - Twin Cities Buyer's Agent