As my vacation gets closer and closer, I have started looking for clothing and colors that inspire me. I'm looking for clothing that is comfortable, visually pleasing, and clothing with a splash of color. This year, I have really begun to explore different color shoes, clothing, scarves, and everything else I wear right down to the nail polish I pick. I've always been a fan of the color black; not only does it look well on everyone it's just plain sexy, well at least to me it is.
I decided to use my Polyvore boards to help me put together outfits for my vacation. Since I will be gone for 12 days it is important that I take versatile pieces that I can mix and match, unless I want my suitcase to be 100 lbs (that has happened before). I'm spending 2 days in Orlando, 2 days in Miami Beach, and then I'm boarding an 8 day exotic cruise to the Dominican Republic, Grand Turks, Caicos, and lastly Aruba. So I turned to Ralph Lauren, because no one does comfortable full figured cruise clothing like Ralph Lauren. I started with basic black & white and decided to add a splash of sunflower yellow. I specifically waited until now to do a majority of my shopping because fall clothing has already started hitting the shelves which means all the cute summer clothing is now on sale.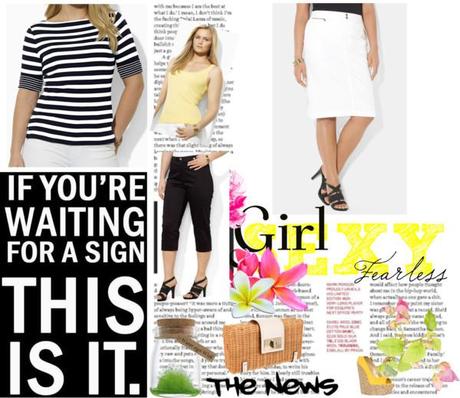 Vacation Inspiration by
shawana-battie
featuring a plus size denim skirt
Lauren Ralph Lauren boat neck top / Lauren Ralph Lauren ribbed tank top / Lauren Ralph Lauren
plus size denim skirt
/ Lauren Ralph Lauren ralph lauren pants / Kate Spade
clutch handbag
/ Crystal Garden Wish Flower
The clothing on this board is all Ralph Lauren paired with a Kate Spade Clutch, and cute yellow wedges from Just Fab.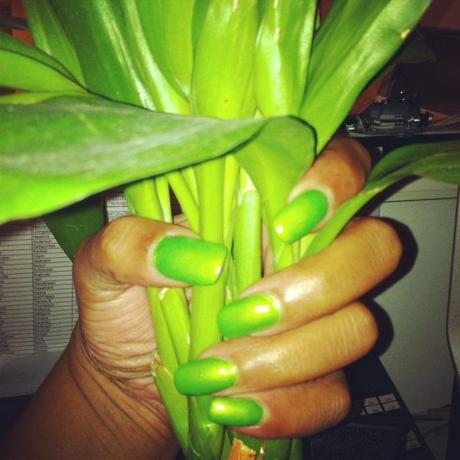 This week I explored the color green with my nail color, I was inspired by the lucky bamboo plant sitting on my desk at work. The polish is by Sinful Colors and the color is called happy ending. After all, we could all use a little luck at some point in our lives.
Have a wonderful weekend