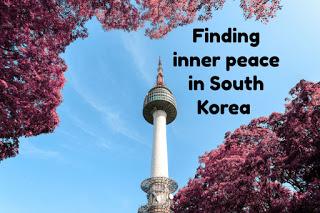 South Korea is a country rich in unforgettable experiences, from eating kimchi pancakes washed down with wine rice to finding hidden temples in the mountains, and from exploring palaces and temples to kicking back on the beach and skiing on the slopes that hosted the Winter Olympics.
You should start your trip from the capital city Seoul,  it combines teahouses and cat cafes, street food and haute cuisine, temples and K pop concerts.
Gyeongbokgung is Seoul's most important palace originally built in 1395, an impressive structure with ornately painted pagodas, pavilions and palaces spread across across the huge site.
Close by Bukhon Hanok Village was once the residential quarter for government official, but today is a mix of private homes, guesthouses, cafes and restaurants.
Check out Seoul's contemporary art scene surrounding Samcheon-ro (Gallery Street) for its numerous galleries. National Museum of Modern and Contemporary Art an art deco building, was extended recently and inside its huge halls hosts exhibitions of Korean and international art.
SMTOWN COEX ARTIUM is a modern temple to all things K-pop, with memorable displays and walls of lifesize pop band photos. Korean pop performers are some of the county's biggest icons.
KUKKIWON, known as the World Taek wondo Headquarters - the practice of martial art goes back to centuries, but the first official school opened in Seoul only in 1940.
The streets around Hongik University are always busy at night with buskers staying out late to perform for the crowds.
The long metro journey  to the southern edge of Seoul is worth it to wander along the riverbank to admire the sculptures from Anyang Art Park. One of the highlights are the spiral of mirrors and the spaceship Anyang Peak installation.
Surrounded by spectacular palaces and gardens, the Executive Tower at Lotte Hotel Seoul is one of the newest addition to the city, with the largest club lounge in South Korea. Equipped with a private TechnoGym fitness area, it also features Beautyrest Black, the largest bed in  Sotuh Korea, as well as one of the finest instruments a rare C. Bechstein grand piano.
Just 30 miles north of Seoul, the Demilitarized Zone lest you have a sneak peep into North Korea and explore the history of the dvided korean peninsula. The DMZ is a 2,5 mile-wide-no-man's land that runs 155 miles across the peninsula. It is in place since the Armistice Agreement was signed during the Korean War in 1953, and remains heavily guarded by soldiers from both sides.
Through binoculars you can see residents of Kijeong-dong (the Propaganda Village) working in the fields while kids march of to school. You will so get to have a look at the "Third Tunnel" an unfinished invasion tunnel dug by the North Korean military in 1978. The Joint Security Area, in Panmunjom, is where North and South came face to face on the lines that divides them.
Eating out in Korea is as much about the experiences as the flavour, whether you are grilling your own dinner in a barbecue restaurant or slurping noodles at bustling street food market. Most famous dish is kimchi that comes in more than 180 varieties and is served with every meal.
Another well known culinary delight is bibimbap - rice topped with sauteed veg, followed by bulgogi (the fire meat), - marinated beef or pork cooked DIY style, on a table top grill.
Soraksan National Park a Unesco Biosphere Reserve - home to musk deer, black bears, kestrels and sparrowhawks.  One of Korea's 22 national parks, it covers a swathe of the country's northeastern Gangwon province and is home to several temples, as well as a 48ft-tall Buddha statue. Korean people come to this shrine to pray or make a wish.  The cave where the statue is found was sued by monks since the seventh century.
Bulguksa Temple, one of the South Korea Unesco World Heritage sites was originally completed in 528, but has been destroyed and rebuild several times since then. It is open to guests, who can check in and experience living like a monk for a night.
Busan sits wedged between mountains and the coast, so the sea ie ever present in its surroundings.  South Korea's second city is blessed with beaches, but thats not an excuse to simply lying back on the sand.
You could hit the waves at Songjeong Beach, where surf schools have been springing up in recent times. Or you could try kayaking, activity thats available for free in summer at Gwangalli Beach, as well on the Suyeonggang River, where you get to admire the mountain-backed skyscrapers while you paddle. At Gwangalli and Haeundae there's windsurfing stand-up paddleboarding and water-skiing.
A day at the beach is not the only way to check the city's coastline. Head slightly out of town to find Haedong Yonggungsa Buddhist Temple. one of the city's key landmarks. Originally built in 1376, and restored in 1970,  overlooking the East Sea, safeguarding "The Water Temple".
Jeju island, South Korea's largest island was formed two million years ago, when volcanic Mount Hallasan rose up from the sea, bringing with it a fertile isle marked with  unique geographical features. It's main attraction is Manjaanggul Cave a five-mile long Unesco World Heritage Site, deep under underneath Jeju City,with it's unique lava tube and beautiful ceilings heavy with stalactites and lava blisters. Jeju is home to 5000 haenyeo divers women, who pluck sea food from the ocean floor without air cylinders.
Jeju's natural wind patterns means there's consistently good weather for paragliding. Run off one of the island's hundreds of hills for views of farmlands, pine forests and Mount Halassan rising up from the center. Just be careful not be taken by the wind to North Korea :)))
For hikers, there's the Olle walking trail network criss-crossing the isle, or for Mount Hallasan fro climbers. For serious hiker there is a reward at the top, the silvery-blue crater alke Baengnokdam, at 6388 ft above sea-level. Bikers can enjoy the 145mile-long bike routealong the coastline is totally flat, whilst offering spectacular views of crashing waves of Jungmun Beach.