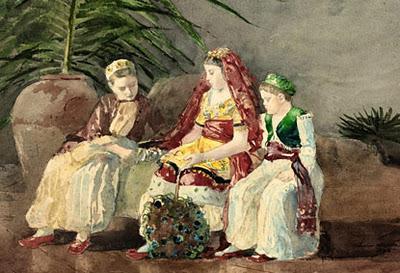 This is such an interesting story. I hope I can do it justice. I originally saw it on
BBC's "Fake or Fortune"
. As a genealogy and art history buff, some of the research gave me goosebumps.
Ok. Back in 1987, a fisherman, Tony Varney, found some art left lying around near the gate of a rubbish tip in the south of Ireland. Even though one of the pieces was signed
Winslow Homer
, Tony didn't know what he had. He didn't bother to research it at all and gave the painting to his daughter Selina who gave house room to other things her dotty old dad collected.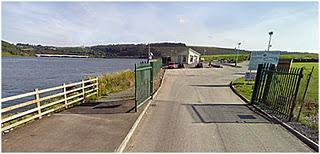 The small watercolour was of three white children wearing ethnic costume. Somehow in 2008, Tony and Selina got their wits together and took it to
The Antiques Roadshow
where it was confirmed by expert Philip Mould to be a work by Winslow Homer, one of America's most important 19th century artists and valued it at £30,000.
Philip Mould
, art aficionado extraordinaire, cleverly knew that this painting would realize a higher price in US, where Winslow Homer is more highly esteemed. Mould had the painting packaged and sent off to Sotheby's in New York.
Phillip Mould's team of researchers went through the rest of the contents of Tony's cardboard portfolio. They found interesting things like a ticket to a costume ball at the Governor's Mansion in the Bahamas, a painting done by the Bahamian Governor's wife. They determined that Sir Henry Arthur Blake, the Governor of the Bahamas from 1884-1887, had his ancestral home in Ireland. Myrtle Grove, County Cork, was about three miles from the rubbish tip where Grandpa Tony found the painting.
Mould's lawyer was left to do due diligence and related to Mould, and the viewers, that the descendents who lived at Myrtle Grove were unaware of the painting and ignorant of the fact that they even owned it.  They had never registered a burglary.
Philip Mould jetted off to the archives in the Bahamas where he found on microfilm newspaper details of the costume ball at the Governor's mansion. Who was in attendance? Mr. Homer.  What were the children wearing? The same pseudo-Turkish costumes as in the painting. A later social notice said that Winslow Homer intended to paint the Blake children in their Turkish costumes. Eureka!
By this time, Sotheby's in New York had authenticated the watercolour and because of the provenance, had estimated that the picture would now reach at least $250,000 - about 5 times the original estimation.
So everyone back home in Coventry, England was very excited. The painting had been professionally cleaned and framed. It appeared in Sotheby's catalog. Selina and her dad Tony went to New York for the sale. Twenty four hours before the sale, the Blake family in Ireland decided that "hey, that's our painting. We could use some of that lovely lolly to fix the roof of our ancestral home" (I'm paraphrasing).
Magnanimously, (I'm being sarcastic) they tell Selina she can go ahead and auction off the painting and she can keep 25% of the proceeds as a finder's fee OR auction it off and Sotheby's could hang onto the money until they could work  out ownership later. Selina, rightly pissed off, said the sale should go on and ownership could be worked out later.
The next day, ten,
ten
minutes before her lot was going to come under the gavel,  Blake's great-great grandson Simon Murray appeared in New York and said that Selina would have to take a 30% finders fee, but with out an agreement as to who owned the painting, he could not let the sale go on. Selina Varney rejected the revised offer and Sotheby's decided to withdraw the painting as they could not guarantee a good title to any potential buyer.
After this fracas at Sotheby's, the painting, now dubbed
Children Under a Palm Tree,
  was placed on the
Art Loss Register
. Why, I don't know. Covering their behinds, methinks. They know where it is now - under lock and key in Sotheby's New York. The family believe it disappeared from Myrtle Grove after a series of robberies in the 1980s,
although Philip Mould notes that there was no crime reported. According to Great Grandson Simon Murray, his family didn't know that the painting was stolen until it was put up for auction at Sotheby's. Simon Murray conducted further research among his family's papers and found a letter which described in detail the circumstances under which the painting was produced. When the Fakes or Fortunes episode aired in June 2011 ownership was still the subject of a legal dispute.
"I think we would rather keep it," said Simon Murray, who, as a lawyer, is still representing his family's interests. "It is such a special picture. The colours are wonderful. It's a very significant part of my family's history and we really want it back." Riiight...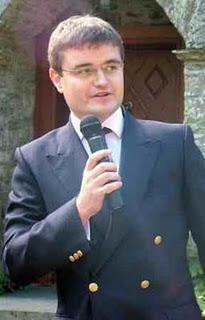 youghalonline.com
The Varney's had the painting in their possession for two decades with no claim on its ownership and no report of any burglary on the part of the Blake/Murrays. I say that unless they can prove that Grandpa Tony stole the painting then tough titty. I say Finders Keepers.