A long while ago I purchased a t-shirt from Find the Nomads, a brand created by YouTubers Louis Cole (Fun for Louis), Steve Booker, and their friend Jake Evans. I decided to purchase the Watermelon Vest and took the risk that the XL would fit me at a size 20, it was designed to be a loose fitting oversized top and so I figured the risk was worth taking.
It arrived in October a while after I ordered it, they were a new company when I ordered and I understood that although they said you should receive your item in 4 weeks it was likely they would have had a large amount of orders from fans, and so it took a little longer than expected.
These photos were also taken in October, on the night I went to visit the illuminations in Blackpool, I did intend to have them up a lot sooner than this but I lost them and have now found them again.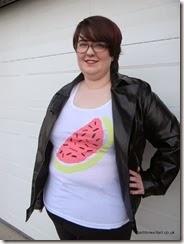 The watermelon vest is simple and ideal for summer, especially if you get the oversized look which it was designed for. However I think it does work well as a standard vest top, it doesn't make me look as though i've squeezed into a top which is too small for me. 
I decided to style it very simply and put it with my black skinny jeans, and my pleather jacket, I think it looks pretty cute!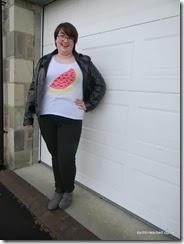 Watermelon Vest – Find the Nomads
Jeans – New Look Inspire
Pleather Jacket – New Look Inspire
Boots – New Look
Tink x