March 25th 2016
Trivia Answer: Ken Howard played the head of Cabletown on 30 Rock
First Fives: Chuch Chiocco, Brian Gould, Kathy Connelly, Mike O'Dea & Karen Feldman
Honorable Mention: Dani Jackel
THE NUMBERS
Wednesday's Broadcast Top 5
Modern Family-ABC 2.4/7.6
Criminal Minds-CBS 2.2/10.9
Survivor-CBS 2.1/9.3
The Goldbergs-ABC 2.0/6.7
Black-ish-ABC 1.9/5.9
Wednesday's Cable Top 5
NBA-ESPN 1.2/2.5
American Dad-Adult Swim .9/1.9
Big Bang Theory-TBS .9/2.5
American Dad-Adult Swim .8/1.7
NBA-ESPN .6/1.4
Wednesday's Social Media Top 5
Criminal Minds-CBS 60,000 Tweets
Supernatural-CW 53,000 Tweets
Arrow-CW 36,000 Tweets
Criminal Minds: Beyond Borders-CBS 30,000 Tweets
Catfish-MTV 21,000 Tweets 
THE SHOWS
Scandal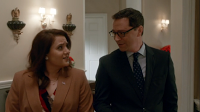 Who knew that my favorite storyline on Scandal would be the Susan Ross/David Rosen love story. I think David Rosen really does loves Susan and I think he's going to end up with her. How awesome would it be if he was the First Husband? Of course it's not going to be easy to win Susan back after Abby opened her big fat mouth and told her about David's escapades. Do you think Portia talks that dirty to Ellen in bed? Ellen would probably just start laughing right in her face. I had to Google Super Pac once Quinn found out that Jake was using his new fiancé for her money to start one. Anyone know what PAC stands for? Bonus points if you do. Sticky window was busy last night holding up hot photos of Alex Vargas. Please roll your "r" when saying his name. That dude is hot and I sense trouble for Cyrus. Speaking of hot, how about that Jake/Olivia bathroom scene? Pretty good considering everyone had their clothes on. Mellie's a mess, she needs to get her sh*t together although, now that I'm on the Susan Ross bandwagon, I actually want team Melivia to lose the election big time. 
The Catch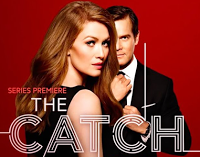 I saw the original pilot of The Catch last May during the Upfronts. It was before Peter Krause joined the cast. Shonda and I are so glad he signed on. It's SO much better with him in it. Peter's character, Ben/Christopher is the polar opposite of Adam Braverman. Good career move all around. Not sure what Shonda's obsession is with sticky window type props, but she obviously likes to use them. Alice and her team don't have a sticky window but they do have a clear wall board to write things down on about their clients. I wonder if Shonda has a giant blackboard to write the food shopping list on and stick the kids art work to in her Hollywood Hills home.  If you haven't seen The Catch here's the deal. Alice is a private detective who fell in love with Christopher a mega rich dude. They're engaged and very much in love. They had some pretty hot sex in last nights episode. Peter Krause didn't use any of those moves with Kristina on Parenthood, I can tell you that much. Anyway, Christopher is a con man who conned Alice out of her life savings and all of her clients secrets. One problem…Chris/Ben really did fall in love with Alice. She's out to get him and her money back but here's my question. Sure this episode was good, but where's this going? Is it just a verrrrrry long cat & mouse game? Those get old fast. Hoping Shonda has a plan that lasts longer than 13 weeks. 
THE OTHER STUFF
-Daytime Emmy Awards were announced yesterday. Here are the only two categories I care about:  
Outstanding Talk Show/Entertainment
Ellen-Slam Dunk…Ellen wins
Wendy Williams
The Talk
The Real
The View
Outstanding Talk Show Host/Entertainment
Kelly & Michael-Slam Dunk #2-Kelly and Michael win
The women of The Talk
Wendy Williams
The women of The View
The people of The Real
-Bad news for cable providers. In 4th quarter paid TV homes fell under the 100 mill mark. 99.4 million vs 100.93 million in 3rd quarter. Live linear TV viewing decreased by 1.2% which is a slower decrease than previous quarters. People are still watching 4 1/2 hours of TV a day. Still pretty good if you ask me. Time shifting was still pretty significant, 32 minutes a day vs 31 minutes last year. 
-This one caught me by surprise, caught all of us by surprise. This one stung a little bit more than usual. I was a fan of Garry Shandling. So many of us loved The Larry Sanders Show but my favorite was the 17 episodes of It's Garry Shandlings Show. Catchiest theme song ever. Garry was JUST on Comedians in Cars Getting Coffee a few months ago. Ironically his episodew was called "It's Great That Garry Shandling is Still Alive" Here's the episode. RIP Garry. You will be missed.  http://comediansincarsgettingcoffee.com/garry-shandling-its-great-that-garry-shandling-is-still-alive -FOX renewed The Last Man on Earth  and Brooklyn Nine-Nine. Not a fan of either
-Ben Affleck, Jimmy Fallon, Pup Quiz…need I say more? 
https://www.youtube.com/watch?v=59-8J0Hr39w
-For anyone that missed GREASE LIVE...FOX is re-a

iring it on Sunday night. 
Friday's Trivia Question: We know that Peter Krause is now in the new Shonda Rhimes show The Catch, and of course he JUST finished playing Adam Braverman on Parenthood and of course before that he was Nate Fisher on Six Feet Under but I first fell for him in Sports Night.  Do you remember his characters name in that one? 
WWTM-Kristy
Like me on Facebook at Watching Way Too Much
Follow me on Twitter at tvnme
http://watchingwaytoomuch.com
[email protected]