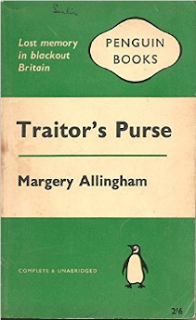 A week or two ago I listened to a BBC radio serialisation of a really good book,

Traitor's Purse

by Margery Allingham. It was read by Roger Allam of

Cabin Pressure

 fame, whose voice I could listen to forever. But it wasn't satisfying.
The problem was that it's a book I know very well, so I noticed every time they'd cut a bit, and they'd cut it massively in order to reduce it to two and a half hours. And the bits they cut were all the small nuances that add subtlety and character to the book, which is why I remembered them. The plot was still there, and the main outline of hero and heroine, but much of the depth and detail was lost.
I was thinking about this in the intervals of going over Time Rats 2, tweaking. I know many writers cut when editing, but when I do it, my book gets longer. I'm adding in more of those little touches that abridgers, vile tribe, would seize on and delete. Because I think they're one of the best parts of a novel, making a book memorable and worth rereading.
(I've got this edition of the novel, minus its front cover. So much nicer than the horrid modern design featuring - wait for it - a purse. Duh.)