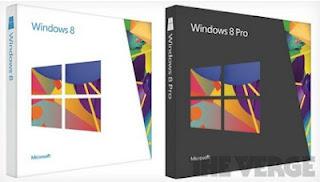 Microsoft has been known to reveal the look of the packaging box for Windows 8. 
In addition to the final copy of Windows 8 itself also been leaked on the internet. 
This indicates that the official release of Windows 8 will be even closer where it also confirmed the upcoming October 26th will be the date of loyal Windows users happy. 
In a leaked image, seen two pieces of packaging, namely Windows 8 and Windows 8 Pro package which is what would be predicted to be Official Windows 8 packs for sale.

Microsoft no longer use the Windows flag logo waving in and for packaging Windows 8 Pro looks to choose a darker color. Are you among users who will buy Windows 8 when it was released?

origin source the verge, Ubergizmo via teknoup
a