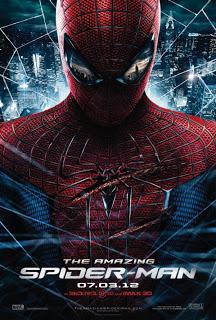 Director: Marc Webb
Starring: Andrew Garfield, Emma Stone, Rhys Ifans, Sally Field, Martin Sheen.
Run Time: 136 mins
Certificate: 12a
IMDb summary: 
Peter Parker finds a clue that might help him understand why his parents disappeared when he was young. His path puts him on a collision course with Dr. Curt Connors, his father's former partner.
First things first. Out of all the marvel movies, the Stan Lee cameo in 'The Amazing Spider-Man' is by far the funniest. It's a true scene stealing moment, and deservedly so, given that the legendary comic artist's creations have been at the forefront of cinema recently. So kudos to Webb for providing Lee with such a shining appearance, even though, ironically, he doesn't even have any dialog. 
Moving swiftly on to the brilliant Andrew Garfield. When Sam Raimi's 'Spider-Man' hit cinemas back in 2002, it has to be said that Tobey Maguire's spandex-clad hero was an innovative and impressive role that helped reboot the genre. 10 years later however, we've been given an even  better, grittier, darker and funnier interpretation.  From the first moments of the film, it becomes obvious that Garfield proves an uncannily natural fit for the relatable web slinger, not least because the script allows him to explore the more confident and cocky side of Peter Parker when blessed with his powers. You really get the sense that Garfield had a very clear focus and idea upon entering the teenage psyche, and as a result, has established a much more realistic, empathetic and likeable version of the character. After all, who wouldn't play a few tricks and break the rules if given such powers - especially if you were still at school? 
Eventually however, Parker learns that great power does, indeed, come with great responsibility, thus the more potent and captivating emotional arc of the film is formed.  Enter Gwen Stacy, Spidey's first love played by the increasingly fantastic Emma Stone.  Seriously, the chemistry between these two leads is off the charts. Every hero needs his leading lady, and Stone's compassionate, calm, smart and free spirited character is the perfect accompaniment to Garfield's slightly more unpredictable and, for want of a better word, jumpy teenager.  It's a match made in comic book adapted heaven.  Equally fantastic is Rhys Ifans as Curt Connors, simply because of how disarming he is for an audience. Despite having all the stereotypical 'evil genius' attributes, Connors is still a very sympathetic human with flaws - which isn't quite so expected for such films, where a good and bad side is normally distinguished clearly, quickly and early.  In this, he's just a man on a quest for self repair and perfection, which again highlights the realism within the film.  
And even though the 'untold' aspect of the story is not as explored as it should be (we receive barely any information on the disappearance of Peter's parents, for example), 'The Amazing Spider-Man' is still a solid piece of story telling, promising an entertaining two hours in the cinema.  And, after Sam Raimi's successful trilogy, it's time to start afresh, and if this introduction is anything to go by, it's gonna be one hell of a ride. Welcome back, Spider-Man.
Sequel? We think so.