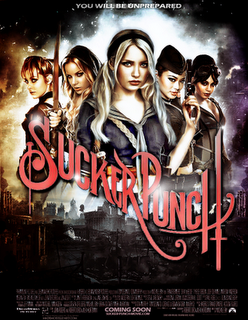 Starring: Emily Browning, Jena Malone, Vanessa Hudgens, Abbie Cornish, Jamie Chung.
Certificate: 12A
Info: I went in to watch this film with very little prior knowledge of it. All I knew was that it was about a young girl who goes into a fantasy world to escape and conquer the events going on in the real world.
My initial thought was that it was going to be very similar to "Pan's Labyrinth".
The film looks incredibly stylish, in a similar way to Sin City and 300.
Plot: In the Real World, 20-year-old "Babydoll" (Browning) has just lost her mother, and in order to claim their money, Babydoll's step father has framed her for the death of her own younger sister. Sent to an Insane Asylum, Babydoll's world crumbles into that of a Brothel, in which she befriends SweetPea (Cornish), her younger sister Rocket (Malone), Amber (Chung) and Blondie (Hudgens), work concoct a plan to escape the clutches of their boss "Blue".
In order to collect the five things needed to escape, Babydoll must dance in order to distract them, throughout which she falls into various worlds, where she and her friends must hunt out the five items.
Can they find the first four items in time, and can Babydoll figure out what the elusive fifth item actually is?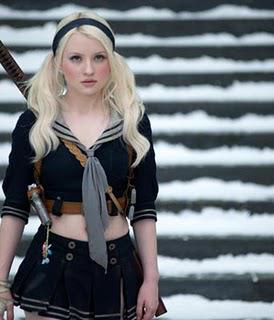 Thoughts: Sucker Punch has received a great deal of negativity from critics, who have branded it "erotic" and "sexist". But, personally, I think the critics are missing the point.
On one level, of course the film is sexist, but only in the way that Babydoll and Co. are forced to dress and act. Nevertheless, you have to remember that the characters are being forced to dress like this, in order to survive in a vicious place. These young and attractive girls, in the Brothel World, are ultimately being objectified by a group of middle-aged men, and how is this any different to the men in the real world who go out and buy Lad's Mags or visit strip clubs?
On another level, the film is about how these girls use the one thing that these men want from them, against them, in order to escape and to beat them. In my opinion, this is empowering and shows that women are smarter than this particular type of male thinks that they are. It shows that women can and will defend themselves whenever they need to.
A couple of reviewers have compared the film to several video games, including Final fantasy, and as a self-confessed Final Fantasy fan-girl, I really have to agree with that idea, and I definitely feel that the likeness to video games is the exact reason why I enjoyed the film as much as I did.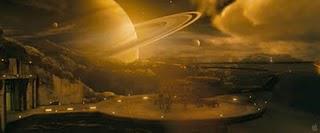 Visuals: Sucker Punch is visually stunning, especially during the battle sequences with Steam Punk imagery and incredible action scenes, that you really can't fault, because they were fast-paced and looked incredible. But, from a film that boasts graphic novel, video game and steampunk elements you wouldn't expect anything less!
Casting: Personally, I thought Emily Browning was great in Lemony Snicket, so it was nice to see her move into an oddly similar, in the sense of quirkiness, film. Her casting seems perfect, because she pays the cute innocence of Babydoll so perfectly.
The only film that I have seen Jena Malone in, is Donnie Darko, and it is fair to say that Rocket was absolutely nothing like the character she portrayed in that. Rocket wasn't an amazing character, but Malone did a fair job.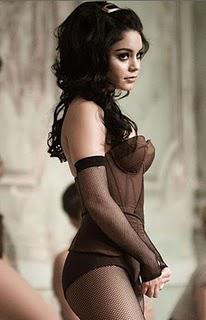 Being a big hater of the High School Musical films, I expected very little from Vanessa Hudgens, so it is with a little chagrin that I confess to being impressed with her acting skills in Sucker Punch. I would say it's fair to say that Hudgens has proven herself to be a potential all-rounder in a way Zac Efron has really failed in.
Jamie Chung and Abbie Cornish were complete unknowns to me, but they both performed well.
Overall: Sucker Punch was not what I expected at all, but I can definitely tell that this is going to be a really Marmite type of film, and I know that no matter what I say, the critics will never be brought round to liking this film.
It was smarter than a lot of the critics seem to think it was, and the fact that I couldn't predict the ending put it in great stead with me.
But, the reason I know I liked this film is because it passed my "coke" test:
I always buy a large coke whenever I go to the cinema, I'm not really sure why, but I just always do, and if I still have a large amount left, then I judge that I liked the film, because I was too drawn into it, to drink the coke. However, if I finish the drink a long time before the film has even finished, then I consider that the film bored me that I remembered my drink to try and quell the boredom.
And yes, I did have coke left when Sucker Punch finished!