OMG. Maren has done 2 posts in 1 day and it's only 12:15 pacific time?!!?!?!?!
I know. It's madness, absolute madness.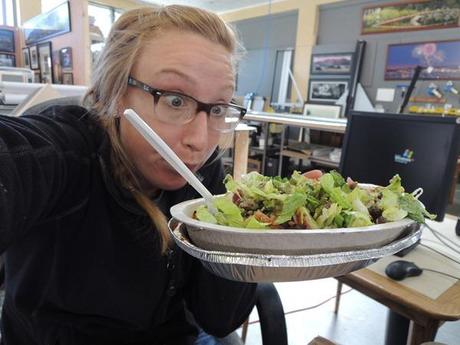 Look at that heaping pile o' veggies! It's like all those leafy greens are trying to dive out of the bowl!
But they did not because I chomped them up before they could get anywhere.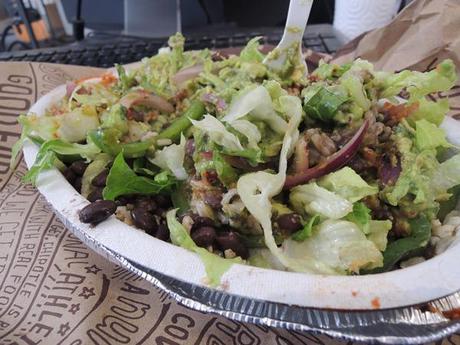 These days I'm eating lots and lots (and lots and lots) of safe foods.
Chipotle veggie (or chicken) bowls are always safe. They never aggravate my stomach and make me feel yucky. So I'm eating one… again.
Plus they're filling and super duper easy. Which always takes precedence in my life, easy is key.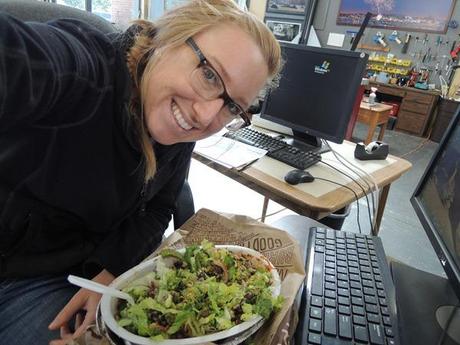 In my bowl was:
brown rice
black beans
fajita veggies
hot salsa
guacamole
lettuce
TODAY'S HEALTHY GUIDELINE CHECKS
swapped bad carbs for good ones (x2)
1 mug of tea
lots of water
lots of veggies!!!
a serving of healthy fat
hot magic lemon water
1 serving of probiotics.
I'm not doin' too bad.
As the day goes on my legs are getting more and more sore. Gah, sadness. It's to be expected, you can't take 10 days off and expect to get away with it pain free. Tonight I was thinking about running a mile or two. You know, to keep my legs doing the running-thing. But now I'm thinking I'll just stick to elliptical and strength training.