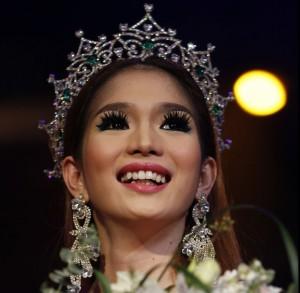 Kevin Balot of Philippians wins international transvestite contest in Thailand
A Filipino transgender Kevin Balot won the Miss International Queen 2012 in Pattaya, Thailand on Friday. The 21-year-old vanquished 20 other contestants from 15 countries.
Balot won $13,000 US in prize money as well as a shimmering trophy and gifts.
"I'm very proud to be the first here, and I hope my dad will accept me. Because in the family I'm the only boy, and my dad has big expectation of me," said Balot, who previously participated in three transvestite pageants in Philippians but competed out of the country for the first time.
"I made it. I won the International Queen Pageant, and I believe that my dad will accept me not only as his son but also as his daughter," she added with visible tears in her eyes.
She will travel to represent the transvestite/transsexual pageant across the globe and loud the voice for the equality for transgender people.
"Someday I want to go to Europe and represent my country in the Philippines. So I'm very proud to present the beauty of gays back to our country, the Philippines," Balot said.
Heaping praise on Balot, the head of judges in the pageant – Seri Wongmontha – said:
"We really looked at her at the first round, because she's lovely, and her personality is very personable, and the way she answered the question. She's really smart."
The Miss International Queen beauty pageant takes place in Thailand annually since 2004. According to the rules of competition, the contestants must show proof of being a naturally born genetic male.