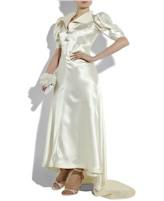 Valentine's day is right around the corner … hmmm, how many out there will be getting engaged? Whether you do then or now (or later)if you are planning a fifties themed wedding, we have some great dresses for you! Just added today: I love the simple elegance of Isabelle; This dress has puffed above elbow length sleeves and a lapel collar. It fastens up the back with a row of delicate covered buttons. It has a short puddle train at the back. The bodice is fitted with panel detail at the front. Embellished with two vintage style buttons.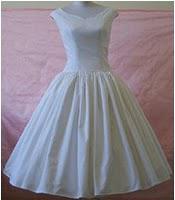 Perhaps you like the simplicity of the Audrey Hepburn Gown from the movie Funny Face:  We have it by 2 different designers at two different prices!  This dress features a sweetheart neckline, cap sleeves, and drop waist for the bodice. The luxuriously full skirt is filled out by a luscious cotton organdy petticoat. The dress is made of an eco friendly bamboo cotton fabric. Bamboo cotton is smooth to the touch and washes like a dream. This dress will be sewn to the highest standards. All seams straight stitched and lover locked. Exquisitely tailored. Expect a truly well made garment.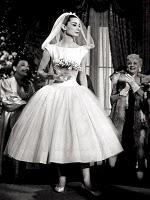 Check out our current selection at Get Go Retro! « I confirm the subscription of this blog to the Paperblog service under the username getgoretro ».