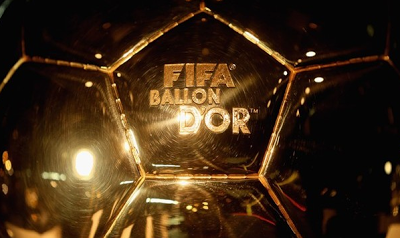 FIFA have recently revealed the 23 man shortlist for the 2013 Ballon d'Or award, along with the ten nominees for the FIFA World Coach of the year award. The final winners will be revealed January 13th 2014, along with the FIFA FIFPro World XI, FIFA Puskás Award (most beautiful goal of the year), FIFA Presidential Award, and FIFA Fair Play Award.
Listed below are the 23 players with the chance to claim the 2013 Ballon d'Or:
Gareth Bale (Wales)
Edinson Cavani (Uruguay)
Radamel Falcao (Colombia)
Eden Hazard (Belgium)
Zlatan Ibrahimović (Sweden)
Andrés Iniesta (Spain)
Philipp Lahm (Germany)
Robert Lewandowski (Poland)
Lionel Messi (Argentina)
Thomas Müller (Germany)
Manuel Neuer (Germany)
Neymar (Brazil)
Mesut Özil (Germany)
Andrea Pirlo (Italy)
Franck Ribéry (France)
Arjen Robben (Netherlands)
Cristiano Ronaldo (Portugal)
Bastian Schweinsteiger (Germany)
Luis Suárez (Uruguay)
Thiago Silva (Brazil)
Yaya Touré (Côte d'Ivoire)
Robin Van Persie (Netherlands)
Xavi (Spain)
And here are the ten coaches nominated for FIFA World Coach of the year:
Carlo Ancelotti (Italy/Paris Saint-Germain FC/Real Madrid CF)
Rafael Benítez (Spain/Chelsea FC/SSC Napoli)
Antonio Conte (Italy/Juventus)
Vicente Del Bosque (Spain/Spain national team)
Sir Alex Ferguson (Scotland/Manchester United FC former coach)
Jupp Heynckes (Germany/FC Bayern München former coach)
Jürgen Klopp (Germany/Borussia Dortmund)
José Mourinho (Portugal/Real Madrid CF/Chelsea FC)
Luiz Felipe Scolari (Brazil/Brazil national team)
Arsène Wenger (France/Arsenal FC).
Perhaps the most striking thing about the Ballon d'Or list is the absence of Wayne Rooney among the nominees. With Messi and Ronaldo probably amongst the top names, is there the possibility of a new name cracking through to claim the prestigious reward? While I'm definitely rooting for Zlatan, if Neymar continues to dazzle like he did in the recent Clasico then perhaps the decision could be much more difficult than it has been in past years. As for the coaches, while it would definitely be nice to see Sir Alex Ferguson get the award as a final recognition after his retirement, it's very difficult to look past Jupp Heynckes. After claiming the treble last season with Bayern Munich, Heynckes seems to be the favorite for the coaching award.

What are your thoughts about the shortlists? Is anyone being left out? Who do you think will claim the 2013 FIFA Ballon d'Or and FIFA World Coach of the year? Share your thoughts in the comments below!