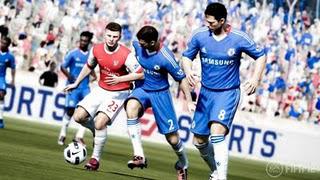 Every year, around this time of year or so, EA Sports has been releasing the latest FIFA edition's trailer. The upcoming FIFA 12 looks to have some of the biggest gameplay changes we'll see yet. With additions like precision dribbling and the player impact engine, along with revamped defending and matchday presentation, this looks to be an extraordinary game.
Here's the trailer which gives you a preview to the new mechanics, which has left many FIFA gamers salivating.
So if you're a fan of the FIFA series and you want to stay up to date with press releases, videos, and everything regarding FIFA 12 as news leaks or is revealed, here are my favorite sites to visit.
FIFA Soccer Blog
 has frequent updates regarding news of FIFA 12 and whatever else EA Sports are working on. I also like to keep an eye on the
official EA FIFA website
, and I'm a big fan of EA Sports's official FIFA podcast which you can find on iTunes.
What are your thoughts on FIFA 12? Will you be buying it, or are the features not enough to please you? Share your comments below!