In the intro to Bite: Bittersweet Portions from a Trans Female Troublemaker!, author Amy Dentata makes a distinction between "biological women" and "cyberwomen." It sets-up the second chapter, about perceptions cisgender women could have of transgender women–and from a feminist lens. Bite is a self-described work of fiction.
A recent post by Amy Dentata on Tumblr is about a fictional future. In this world, "cisgenders shop for bodies" and seek "porcelain perfection." Amy Dentata writes: "They don't appreciate the nuance of matching one's body to one's brain map." It's a statement about the lack of empathy and awareness towards things like gender dysphoria and transitioning.
At the end, it says there will be a group of people in the future that will be "anti-reembodiment" and could form an oppressive group (maybe like what's suggested with the 'NeoPatriarchy'). Another way of saying this is they will oppose morphological freedom.
Vs. Non-Fiction
Futurist Anders Sandberg defines morphological freedom as "an extension of one's right to one's body, not just self-ownership but also the right to modify oneself according to one's desires." It's a term associated with transhumanism, which looks at how humans will be transformed through technology.
Dr. Natasha Vita-More's work examines the future of the human body. In an interview with The European she talks about prospects for 3D-printed skin and a whole-body prosthetic. Prospects for artificial tissue and skin extend to gender and what she refers to as sex change operations. Echoing Amy Dentata, Vita-More explains, "human enhancement and transhumanism aren't striving for perfection" and "the aim is to become more aligned with one's psyche and feelings."
Amy Dentata's writing is instructive in how cultural views of transgenderism could unfold as the technological future comes to fruition.
#CognitiveCissonance
A hashtag that originated from Amy Dentata last week gives a feel for her brand of humor. '#CognitiveCissonance' has been used hundreds of times since September 2nd in tweets like the one shown below.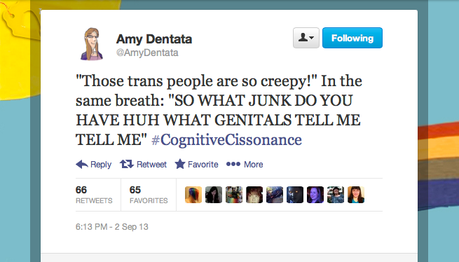 (The hashtag blends cisgender–a term for gender that matches a person's assigned sex at birth–with the phrase cognitive dissonance.)