I'm starting to get the hang of working in Photoshop to create dioramas of my models. Here's my latest attempt at a diorama using Photoshop. It's a Fiat Abarth 1000 in action.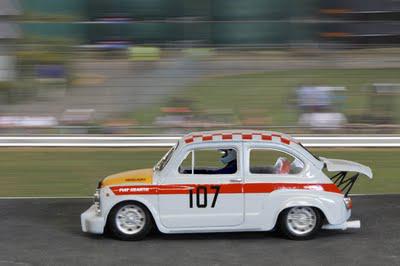 The model itself is a Brumm 1:43 of the Fiat Abarth 1000 which Gustav Edelhof drove to a
class win at the 1967 Nurburgring 1000. It really looks like it means business!
The basics of creating an 'action' shot with a blurred background are as simple as finding an existing action shot with a blurred background, and replacing the original car with a photo of my model. My first action shot of the
Peugeot 403 at Phillip Island
is still the one I like the most, as the background is accurate – it
is
Phillip Island – and much more atmospheric, with the tell-tale whitecaps of Bass Strait in the background telling you immediately where you are. I don't have a clue where my little Abarth is hurtling around.
However, this little action dio has a 'first' to its name. I've just figured out how to blur the wheels in Photoshop, to enhance the action feeling. I only started on using Photoshop last December, and the learning curve since then has been both interesting, sometimes exciting, and always steep.
I won't pretend that I know a lot about all the Abarths, beyond saying Carlo Abarth is to Italian tuning as Amedee Gordini is to French tuning, and both gentlemen are legends. I have half a dozen Gordinis in my diecast cabinets so far, I'm catching up with four Abarths now, and so the race is on!