Linking up again with Kmart display wrecking buddy DearBabyG.
This week, I want to talk whine about how becoming a parent, arguably the most grown up and adult of all acts, has actually stripped me of my grown up adult self.
Example 1:
I have a modest collection of high heels.  I keep them in the hope of one day training my poorly co-ordinated self to wear them once again. Some day in the distant future when I don't spend my time running around after kids or speeding through shopping centres.  Alas, my beloved heels are gradually being relocated to the toy room Dress Up box, as The Feral Threesome assume ownership, one pricey heel at a time, FFS.
They are also far more skilled in walking in said heels than I am, FFS.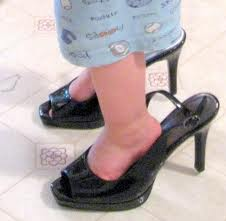 Example 2:
Miss6 wears more of my make up than I do, FFS.
Example 3:
My perfume collection has become more chemist than Chanel, FFS.
I have wept tears of sorrow as I attempt to mop yet another spilt bottle from the tiles and/or carpet.  This is because I am too distracted by Twitter to watch all three of my kids all of the time, and instead am lead by scent when I need to locate them.
I can't tell you the number of times I've found them based on the strength of the Dolce & Gabbana Light Blue (my personal favourite). FFS.
Now I buy Dora the Explorer kiddy perfume and try and make peace with the fact that we will all smell fruity fresh, FFS.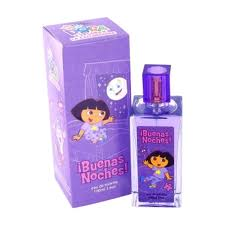 Example 4:
I buy my wine by the cask. FFS.
For budgetary and mass consumption purposes, and also kiddy safety.  A cask knocked on the floor just makes Mummy nervous that some of that goodness will be wasted.  A bottle knocked on the floor is far more disastrous.
Example 5:
A night out is Sizzler as opposed to the McDonalds drive thru, FFS.
In most cases, I opt for the McDonalds drive thru since it means I don't have to find clean clothes, brush hair, wipe faces, and find five matching sets of shoes…and that's before we even leave the house.  Inevitably, soon after being seated someone knocks their drink on the floor, yells inside the restaurant, and creates a scene – and that's usually just me.
I am indeed a grown up, an adult.  But having kids has relegated me back to childhood in so many ways.  It's lucky that I have an inherently immature sense of humor to match, can whine for Australia alongside The Feral Threesome, and am not above joining them on the dirty floor of the supermarket in an all-out tantrum.