CNBC, citing USA Today data reports voice mail usage is down. Specifically, Vonage has found that voicemails left have declined 8%, and voicemails retrieved have declined 14%.
Yes, that means the jerks you're leaving messages for are not bothering to listen to them.
3 Worse Things Than People Not Listening To Your Voicemail
1. Leaving a detailed message, telling your friend everything they need to know about a party tonight, and then they phone back two minutes later, saying, "I see you called, what's up?" 
"What's up is people like you have lead to 8% fewer people leaving voicemail messages," you angrily yell in a telephone-tag, follow-up voicemail, that will never be heard.
2. Having to listen to an urgent voicemail message before your subway heads into a tunnel, but it seems the woman in the voicemail prompts is talking intentionally slow, to eat up your air time.
This results in your battery dying before you reach the tunnel, missing your friend's message to not meet at Times Square to head to the Yankees game because your friend won a free helicopter ride, in a chopper flown by Derek Jeter, and "why aren't you picking up the phone, we're leaving in minutes without you!"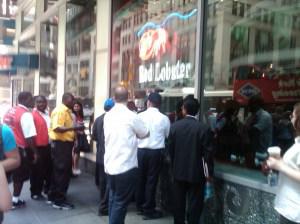 The only thing worse than missing a helicopter ride to Yankee Stadium with Derek Jeter, is missing the game, and having to watch it through the window of a Times Square Red Lobster, like these sports fans!
3. Getting a $1,000 phone bill after checking all of your friends' voicemail messages while visiting another country.
All of the messages are inviting you to a party that night, when your friends ought to have known you were in Greece since you posted it on Facebook, and all of the callers clicked that they "liked" your status. Don't worry, that grade three friend you didn't know spent 5 years in jail also liked your status, and will rob your apartment while you're away. The good news is it's hard to steal valuable stuff from an apartment, so your costs for roaming and data charges will be much higher than the apartment theft.