As Christmas looms nearer the stress levels grow with it; along with all the shopping, cooking, organising and planning there comes the dilemma of school holiday activities.
The kids will be breaking up in no time, bringing with them an insatiable festive energy and enthusiasm. So what better way to quench their Christmas needs and keep them busy than taking them on some festively magical days out?
Here are a few ideas for events happening this season:
Hogwarts at Christmas
It's magical all year round, but this winter Warner Brothers has brought a little extra sprinkling of Christmas spirit to their Harry Potter Studio Tour with a festive theme. Hogwarts at Christmas sees the whole tour undergo a festive makeover with the actual decorations and food props that are used in the films.
Take a look into the Great Hall which is lined with Christmas trees, holly and mistletoe and salivate over the long dining tables that have been laid up with props for a Christmas feast. You can even see the Christmas jumpers that Harry and Ron received in Harry Potter and the Philosopher's Stone.
The feature runs from 15th November to 6th January, so if your family is fanatical about the enchanting series, visit www.wbstudiotour.co.uk to book tickets now. You can even order tickets as gift package, which comes with a wand!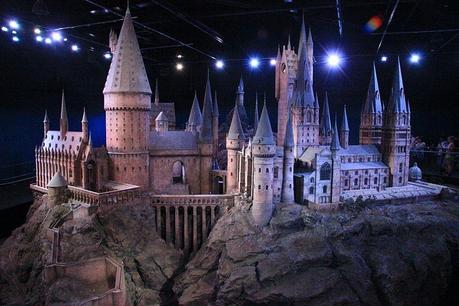 http://upload.wikimedia.org/wikipedia/commons/thumb/3/38/Hogwarts_model_studio_tour.jpg/800px-Hogwarts_model_studio_tour.jpg
By Karen Roe, originally from Flickr.com (http://flickr.com/photos/[email protected]/7544154984) and provided via Wikipedia Creative Commons
Winter Wonderland
Why not take a break from your Christmas shopping and take a trip to Winter Wonderland in Hyde Park this Christmas? This is a children's dream come true: with delicious foods, an ice rink, Santa's grotto and fairground rides, you can spend hours wandering through with the whole family.
Winter Wonderland is open 10am-10pm until 5 January, closing only on Christmas Day. Take a trip down in the run-up to the big day to finish off some shopping and meet the man in red. Make a night of it and catch a performance of Zippos Christmas Circus while you're there!
While entry to the Wonderland is free, any rides or attractions will require tickets, which you can buy online in advance.
Christmas Grotto at London Zoo
You can't miss the chance to take the children to meet Santa at London Zoo this Christmas. Not only will they love meeting the man himself and telling him their wish lists, but they will adore getting a close look at the reindeer that make it all possible.
Although the £25.50 price tag seems steep, it includes other festive activities around the zoo. While there they can even do some gingerbread decorating, hear stories from Mother Christmas and prepare some treats for the animals. Adults get in for free, and under-3s only cost £8.00. Visit www.zsl.org for more details.
Christmas at Kew
For the outdoor lovers, head to Kew Gardens for an illuminated trail through their winter landscape. The one-mile-long trail winds through the gardens and allows you to see the beautiful landmarks lit up in ways you've never seen before.
There's a boutique Christmas market to explore afterwards, complete with a grotto and fair rides. As twilight falls, the magic begins!