Festival Fashion Trends for Summer 2013
Festival season is upon us and up and down the UK females are flocking to the shops and stocking up on festival fashion! Whether you are hitting Leeds fest, Tramlines, Y Not, or just want to rock the styles while you rock out in the beer gardens, these styles are the perfect summer wardrobe essentials.
All Things Bright and Bold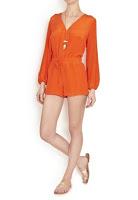 The more vibrant your outfit the better so go bold or go home! When we say bold, avoid neon hues and go for something a little deeper but still bright, to avoid looking like you are attending a 90s rave instead of a festival. If unsure, stick to deep yet summery colours such as mustard yellow, burnt orange and mint green.
How to wear it
: We suggest a cool slowing skater skirt and loose or vest, as it's casual and flowing, meaning you will feel comfortable in the summer heat and can dance the day and night away!
Bohemian Rhapsody
We know we are stating the obvious here; boho is one of the staple trends of festival fashion! It's a classic, comfortable style that is so easy to do and fits right in with the mood of the festival. It's all about the accessories, so make sure you stock up on distinct accessories and build your outfit round these. The best place for finding unique accessories is
London Boutiques
, who stock ranges from all the hot little back street boutiques straight from the streets of London!
How to wear it
: Boho chic has endless possibilities, so if you are struggling to decide take some inspiration from our favorite Bohemian trend setter Florence Welch, who always looks stunning in long flowing white maxi dresses with flowers in her hair and a wealth of interesting accessories.
The Power of Prints
Prints have been creeping back into fashion for the past few years now, and with every new season's trends, they become ever more daring. This year's festival fashion holds no exception, with prints taking the step into previously unchartered territory; matching tops and bottoms. Celebs and socialites across the world have made this once frowned upon fashion faux par a hot new trend by sporting matching shorts and tops, blouses and trousers, skirts and shirts, and much more.
How to wear it
: This trend speaks for its self really, just find a matching set and Bob's your uncle! We particularly like the idea of matching shorts with sleeveless tops, as its cute and casual, and matched with understated accessories and sandals its perfect for festivals.
Monochrome Madam
The classic sixties look is back, and what better time to wear this music inspired trend than at a festival! Whether you prefer the mod or punk takes on the black and white trend, or the more modern monochrome chic, this is one classic trend that we are happy to see making a comeback.
How to wear it
: Blocks of black and white, the classic mod and punk check pattern, pretty polka dots or sassy stripes are all perfect ways to show your love for this classic turned modern festival trend.
Flower Power
As always, floral prints and accessories make another appearance as they cement their place as a staple summer and festival trend. And with every passing year it only gets bigger. Incorporate the bright colours and print trends with a big and bold flowery print, or go more subtle with a nod to the bohemian trend with some floral-inspired accessories.
How to wear it
: Our favorite way to wear the floral trend this summer is with a floaty sundress that will keep us cool during the heat waves, with a bright flowery print. Or if you aren't much of a dress wearer, which not opt for flowery shorts and matching top to tie in with the new prints trend, or go for a more subtle take with denim shorts and a bright flowery head dress and some floral accessories.