The 70-year-old highlighted his own decision to announce his retirement as evidence that uncertainty can cause unrest, while the Scot also thinks City clash could decide the title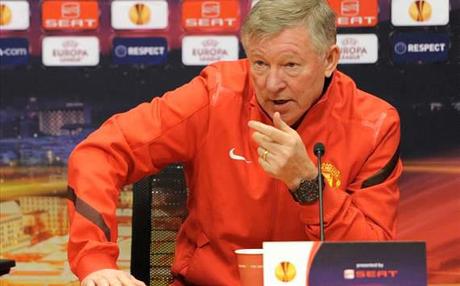 Manchester United boss Sir Alex Ferguson believes reports linking Tottenham's Harry Redknapp to the vacant England job will be a "worry" for the north London club's directors.
The Red Devils face a trip to White Hart Lane on Sunday, with Spurs in third place and eight points behind the Premier League champions.
Despite the Tottenham manager claiming that there is yet be an official approach from the FA, the 65-year-old appears to be the favorite for the national team role.
When asked by reporters if the rumours would be a distraction, the United boss replied: "It's difficult to say. I think the people who will be more concerned are the directors, they'll be worried, unless there's been contact between the FA and Spurs.
"I would doubt that at this moment in time but I'm sure they'll be wondering what the next step is in relation to the contact the FA make and when they make it.
"I don't think you can dismiss that eventuality. It's going to happen and they'll be more worried than the players."
The Scot caused uncertainty himself 10 years ago when announcing his intention to retire and although admitting it was a different situation, the 70-year-old insisted the stories will cause an effect in the Tottenham camp.
He added: "Yes, I made that mistake myself. I said I was going to retire, it definitely affected the dressing room, no doubt about that.
"[But] it's a little bit different [for Spurs], it's only speculation – Harry has not made any statement that he wants the England job for a start, though I think the general feeling is he would relish it."
United's bitter rivals Manchester City ran out 2-0 winners over Bolton on Saturday, extending their lead, albeit temporarily, at the top of the table to five points. Ferguson suggested that their trip to the 

Etihad 

on April 30th could well be the title decider.


"It does look that way," he said.
"It's going to be a massive game because you can't see City dropping a lot of points and you can't see us dropping a lot of points either.
"We are getting into consistent form now so it does point to that game."