Robyn Rihanna Fenty launched her summer collection
Fenty Beautym Beach, Please
in May. The collecytion includes two, liquid eye shadow duos, three highlighter duos, and two lipgoss trios.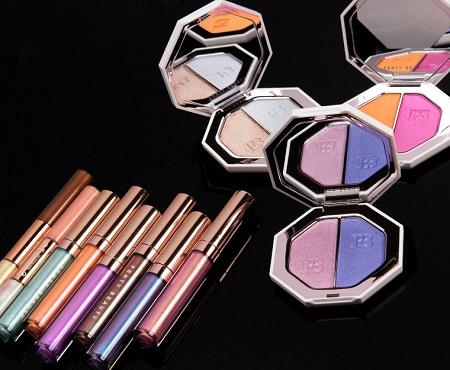 Fenty Beauty Beach, Please! Collection
Before she was BadGalRiRi: music, fashion and beauty icon, Robyn Rihanna Fenty was a little girl in Barbados. Transfixed by her mother's lipstick. The first time she experienced makeup for herself, she never looked back. Makeup became her weapon of choice for self-expression. In a way to radiate her ever-changing mood. It powered a fearless take on beauty that helped her become the boundary-breaking icon she is today.
Rihanna was inspired to create Fenty Beauty. After years of experimenting with the best-of-the-best in beauty. She still saw a void in the industry for products that performed across all skin types and tones. She launched a makeup line "so that women everywhere would be included. " Focusing on a wide range of traditionally hard-to-match skin tones. She was able to create formulas that work for all skin types, as well as pinpointing universal shades.
Fenty Beauty products are designed to feel lightweight even as they deliver buildable coverage that effortlessly layers, to ultimately "make skin look like skin." Most importantly, Rihanna creates makeup to inspire: "Makeup is there for you to have fun with," she says. "It should never feel like pressure. It should never feel like a uniform. Feel free to take chances, and take risks, and dare to do something new or different."
Fenty Beauty Beach, Please! Collection
Created by Rihanna with her vision that's always ahead of the game.  Fenty Beauty redefines the rules with light-as-air formulas.  That love to be layered—in a global lineup of shades designed for all.
Fenty Beauty is 100% cruelty free and can be found online at Fenty Beauty by Rihanna