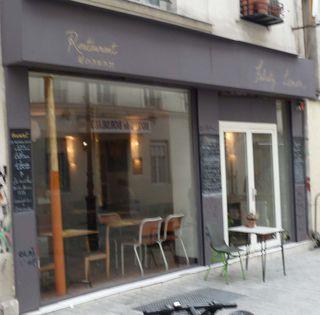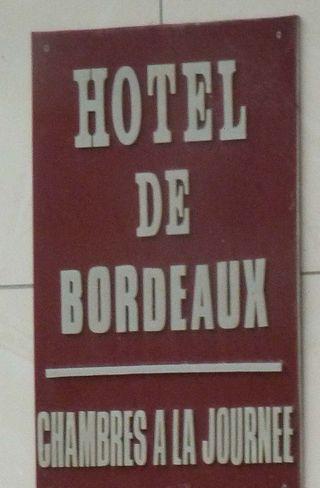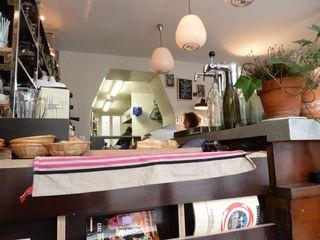 7.2 Felicity Lemon, 4, rue Lemon (see - it's a play on words - Rue Lemon, Felicity Lemon, Agatha Christie's Hercule Poirot's Secretary's name - got it?) in the 20th, (Metro: Belleville), 01.71.32.71.77, closed Sundays, Tuesday and Wednesday dinners, is a place I've been waiting to go to since it opened in September 2012 but never found the right companion or day.  But today, my old ex-co-host from the food website that cannot be named was finishing up a Paris by Mouth tour at Jacques Genin and it was a quick two stops on the Metro away.  It's on an alley, across the street from a hottie hotel and has a carte with lots of French tapas-size offerings.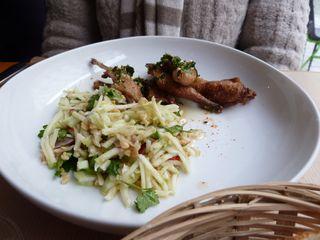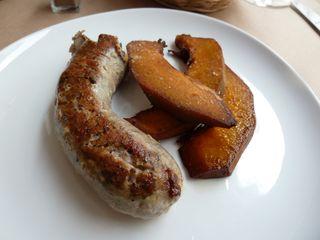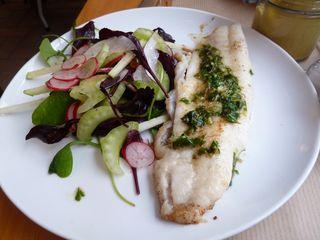 We sort of ordered three dishes and sort of shared them and more than sort of, enjoyed them all: the winner for me was/were the quail legs with garlic with really spicy green mango strips but the interestingly-filled sausage with a la plancha'd slices of pumpkin (which tasted more like French squash than American pumpkin) and sole with a salad with at least two types of spicy radishes were pretty darn good too.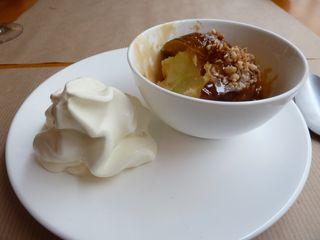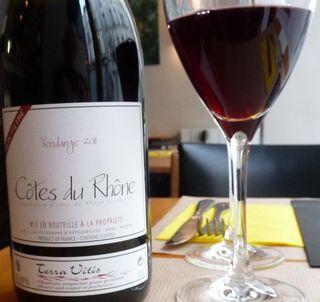 Then she, having noshed for 3 hours on croissants, cheese and charcuterie, was disinclined to proceed but I insisted on trying the baked apple with beurre sale caramel and whipped cream and it too was outstanding.  With a bottle and glass of Cotes du Rhone (the wines go from 2.80 a glass, thru 7.50 a 50 cl carafe and 16 E a bottle on up), no bottled water but two coffees, our bill was 57.80 E for the two of us.
Go?  Not to cross town for, but if you find yourself in Belleville, this is the place.  dB level = 66.3; oh by the way, the chef is a black woman - one Sylvia François - hummm, wonder where she came from that results in these flavors? 
*My reference to food made in the kitchen is not only a swipe at Metro-dependant places but a tip of the hat to F. Simon who in today's Croque-Notes said - "Alors, demandons aux chefs de revenir un peu plus a leurs fourneaux."