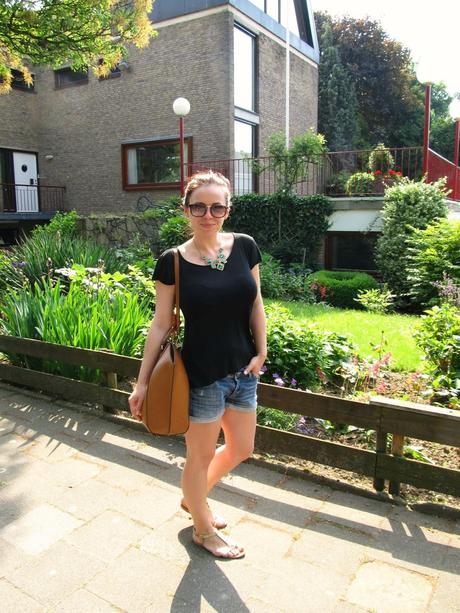 <EN> 
Totally and utterly in love with weather in the Netherlands. Saturday 25
° - Sunday 14
°. I'm dying to return to Romania in less then 1 week actually! Uhuuuu! On a different note, you guys probable know from my recent posts that I'm a sucker for simple, clean, minimalist stuff like this outfit here. It's not that I don't like to go out of my comfort zone but I just can't stand all galaxy/skulls/crosses/cats&co trends surfacing each month from all sorts of clothing wholesalers.  I 
truly believe that having a moderate selection of basics with which to mix and match is the best way to be "fashionable" within a budget. Try neutral colors, maybe some pattern like stripes, invest in jewelry and pay attention to details.
<RO> Okey, se pare ca asta va fi prima postare in limba romana pe care o fac de cand am acest blog. Probabil am ales sa scriu in engleza pentru ca imi este mai usor din moment ce in ultimii ani de studentie am invatat in engleza si poate si datorita faptului ca am presupus ca nimeni nu mi-ar citi balivernele (a se citi ramblings). Observ in analytics ca partial am cititori din Romania dar credeam ca sunt doar prietenii mei pe care ii stresez cu "ai vazut ultima mea postare? ai vazut-o? ai vazut-o?" Recent am avut placerea de a fi invitata la ce-a de-a doua editie Digital Divas ce are loc la Bucuresti pe 21 iunie. Evident ca urmeaza sa dau curs invitatiei de vreme ce invitatul special in acest an este Yvan Rodic (from FaceHunter) dar si pentru ca evenimentul va fi plin de prezentari despre trendurile din on-line media, oportunitati de dezvoltare a carierei si social media. Faptul ca evenimentul coincide cu intoarcerea mea in tara e mai mult decat perfect de vreme ce networking-ul meu pe partea de fashion blogging in Romania tinde spre 0. Deci, sper sa ne vedem acolo! :)
Printre vorbitorii locali prezenti se numara specialisti cu experienta in on-line si social media, cunoscuti bloggeri de fashion, dar si celebritati care vor dezvalui secretele si strategiile care le-au adus succes in comunicarea on-line: Oana Pellea (Actrita), Andreea Esca (Director Editorial - The One), Raluca Kisescu (Marketing Manager- AVON), Cornel Ilie (Muzician - Trupa Vunk), Ovidiu Buta (Director de Moda GQ 
& fondator Fashionandbeauty.ro), Mirela Bucovicean (Owner - Molecule-F.), Monica Jitariuc (Managing Director – The Practice Romania), Cristian Lupsa (Editor – Decat o revista), Vicki Nicola (Fashion Blogger – Vickipedia), Alina Tanasa (Fashion Blogger – Absolutely Fabulous) si Diana Enciu (Fashion Blogger – Absolutely Fabulous).
Outfit
Tee: Zara (similar)
Denim Shorts: so old I can call them vintage 
(similar)
Sandals: Zara 
(similar)
Bag: Zara 
(similar)
Necklace: some Etsy store 
(similar)
Sunglasses: Firmoo 
(similar)
Stay updated on:
 Facebook / Instagram /Bloglovin