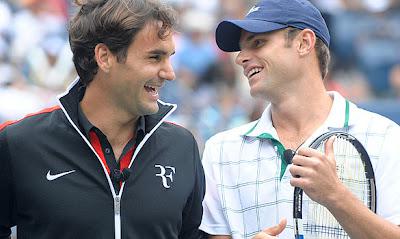 Roger Federer and Andy Roddick are scheduled to play in the third round of the Sony Ericsson Open on Monday. This will be the 24th meeting between the two, with Federer leading the head to head 21–3. Below are some quotes from their press conferences in Miami on how they feel about their upcoming match.
Roddick on playing Federer: 
"I know the name value for a third round is certainly there if I play Roger. We've played a ton; there's no secrets. I know I have to execute really, really well. There's a small window of percentages where you have to be right, you know. What he does is he shrinks that window with his strengths. We have had a couple really tight ones here before at night. I'm guessing that's when it would be. I think we played here twice. I won one four in the third and lost one four in the third. It's always fun. It's always fun."
Roddick on his win over Federer in Miami '08: 
"I mean, there's no getting around the fact that it's been he's been the biggest obstacle in my career, and, you know, his game matches up well against mine. You know, just the Xs and Os of it, I have to be really good to give myself a shot against him, better than against most. So it's rewarding. When you beat a guy who's the best ever at his sport, it's a big deal. Doesn't matter where it is. So I was obviously very happy with that."
Federer on playing Roddick: 
"Playing Andy always is special. We have had so many big matches over the years. I think he played a really good match today, and he seems like you know, it's gonna be a tough match in the next one. He's beaten me here I think four years ago maybe and he's won a title here before. I think he's practiced, you know, a lot in Florida in the past, as well, I think. He must like this climate. He's played some of his best tennis over here. I know the danger, and I hope I can live up to the expectations or to the head to head record and get another win against him. But we'll see how it goes."
Federer on his lopsided head to head against Roddick: 
"Yeah, I mean, doesn't matter if it's Juan Carlos Ferrero, Lleyton Hewitt, or Andy Roddick. All these guys have been world No. 1 and been in the top 10 for so long and won big tournaments time and time again, proven their point. They'll always remain dangerous until they, you know, retire. The head to head doesn't play a massive factor for me in every match I go in against Andy, because I know there's always a lot in Andy's racquet depending on how he serves. And, you know, if I don't play well, I know I won't win. So the pressure is there. That's what he can create with his game. This is why I never take a match lightly against him."
Read Roddick's full interview here and Federer's full interview here.