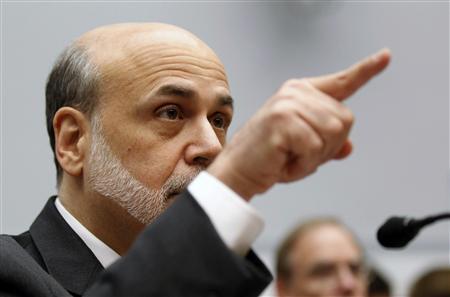 Federal Reserve Chairman Ben Bernanke testifies before the House Committee on Financial Services on July 18, 2012. Photo: Jason Reed / Reuters.
Texas Congressman Ron Paul quizzed Federal Reserve Chairman Ben Bernanke for the last time on Wednesday, as the 76-year-old House representative prepares to leave Capitol Hill at the end of the year.
Dr. Paul, firmly believes that the Federal Reserve, which was created by Congress in 1913, has been responsible for the devaluation of the U.S. dollar ever since it was put in charge of monetary policy. These days, for instance, the U.S. central bank is keeping interest rates artificially low in order to support the faltering economy. In normal circumstances, this would result in a visibly weaker dollar. The only reason the greenback currently appears 'strong' against the currencies is because the euro has been progressively losing value courtesy of the financial stresses which continue to haunt the European banking sector and various Mediterranean countries.
To put a stop to such harmful policies, Dr. Paul has for the past 30 years or so been campaigning for the abolition of the central bank. He wrote a book, "End the Fed" and, more recently introduced a bill calling for the central bank to be thoroughly audited. Dr. Paul's legislation is expected to clear the House next week. However, it is unlikely to make it through the Senate.
Dr. Paul surprised everyone on Wednesday as he adopted a more conciliatory stance toward Mr. Bernanke. Although he spent some time lecturing the Federal Reserve's chief, the Texas congressman appeared to state that the bank's chairman himself was not really to blame for the Fed's actions.
I have over the years obviously been critical of what goes on monetary policy, but it hasn't been so much the chairman of the Federal Reserve — whether it was Paul Volcker or Alan Greenspan or the current chairman. I think they have a job that they can't do because it's an unmanageable job," Dr. Paul told the House Committee on Financial Services.
Republican Congressman Spencer Bachus of Montana recalled Dr. Paul's more recent interventions with fond memories.
"This may be his last committee meeting with the chairman of the Federal Reserve. And his leadership on the committee, especially during these hearings when we've had the Federal Reserve chairman appear before us, have certainly made the hearings more interesting and provided several memorable YouTube moments," he said
Mr. Bernanke became chairman of the Fed in 2006.