I'm late at posting this once again, the months are just rolling by so far now... how is it March already?!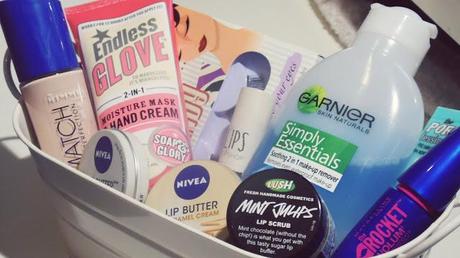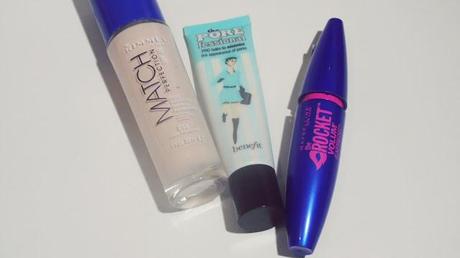 Rimmel Match Perfection Foundation [010 Light Porcelain] 

★

★

★

★

★


It weird now a drugstore brand has come out with a pale as anything foundation as i don't feel the need to be constantly buying new foundations for my ghost like translucent skin. This foundation i find to have enough coverage for my skin which i find to be medium to some what build able. I would highly recommend this to any pale beauties out there as also at the moment is on offer for a mere £4.99 well worth a try.
Benefit Porefessional Primer 

★★★★☆




After trying a sample of the porefessional out of the glamour magazine a few months back i really quite liked it enough to buy the actual product, this doesn't happen very often i might as. The sample lasted me months which made me want to buy it even more as i felt it would last me the right amount of time as the money i spent on it. A bit steep for a primer at £23.50 but well worth it. I have open/large pore around my nose onto my cheeks and fine that this just fills them in enough that my foundation looks good on top of it.


Maybelline The Rocket Mascara  

★★★

☆

☆


I must admit when i bought this when it first came out i absolutely hated it and thought it was a complete waste of money at £7.99 the formula was really wet and the comb head brush thing was so hard that i felt like i was poking it in my eye every time i tried to apply it. However it got shoved in my draw and got forgotten about until this month i let it see the light in the time i had left it the formula wasn't as wet and much more workable on the lashes and now to say i love the result it gives to my lashes. Long and volumised.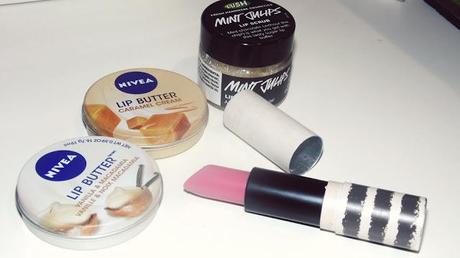 Nivea Lip butters 

★★★★☆




I'm

 big on lip balms and try so many and so many have let me down but not this. These are my favourite flavours/scents out of the 4 that where released in the collection before i would only use the Burts Bees balms but i can honestly say i havent touched it since having these. These give such moisture to the lips which i love the only downside i could find is that it gives you a slight white look to the lips once applied which isn't so good if you wear it out so you would have to be aware. Prices of these varies from where you buy them from.


Topshop Lipstick - Innocent 

★

★

★

★

★




I'm not one for really liking 

Topshop make-up and this is the only thing i own off the line. However this lipstick i find i am constantly swaying to at the minute it is easy to wear throughout the day and makes my teeth look whiter which is always a good thing. Not sure how much it cost but cant be that much.


Lush lip scrub - Mint Julips 

★

★

★

★

★




For people who suffer with dry cracked lips it looks abit awful under lipstick i have suffered with this for most of my school life and onward and no amount of 

lip balm

 helps but this make them look perfect i cant fault it at all and also it smells GORGEOUS exactly the same as after eights! costs no more than £6.00.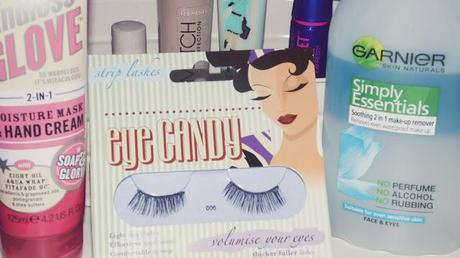 Soap & Glory Endless Glove
★
★
★
☆
☆
I bought this just because working behind a bar im constantly washing my hands so hand cream is a much but not always enough so i pop this on, on a night while in bed watching tv with cotton gloves on and it leaves my hands really soft and moistured till the morning but other than that nothing much more its good and worth a place in the favourites but i would love to try another from another brand. If you have any 
suggestions
 please leave a comment.
Garnier Make-up Remover
★
★
★
★
★
I love this stuff for just taking off my eye make up. I prefer using this to the actual eye make up remover as this is for the eyes and face but simply i just use on eyes, its a bigger bottle and for the same price as when on offer under £2!.
Eyecandy Lashes
★
★
★
★
★
I tried these on a one off from 
Bodycare
 as i buy all my eyelashes from there as they are much cheaper than superdrug or boots. I normally go for my favourites the 
Eylure Katy Perry "Oh Honey" (£3.99!) However i tried these just for a Halloween look and only cost £2.99! i have been buying these ever since the lash band is so thin and they are so easy to work with and put on. They look very natural and could be worn for everyday wear.
What are your current favourites?