I received my February Popsugar Must Have box just in time for Valentine's Day. This month's box was of course themed towards love, romance, beauty, and chocolate. I love anyone who sends me chocolate! I also received my very first Graze box which is a weekly snack box. OK! Maybe I have a slight addiction to subscription boxes. It's like receiving a surprise in the mail every month and I love surprises!
So here's what I received in my Popsugar box:
Browndown Bath Wrap – This wrap is so soft and cozy! I prayed that it would at least fit half of my body. I was thankful that it fit more than half.
Hanky Panky Navy Blue Thong – This thong probably won't fit past my ankle…look at the picture! It's actually that tiny!
Revlon Just Bitten Kissable Balm Stain in Honey – I really like this lip color and the minty flavor. A girl can never have too many lip products. The picture shows how it looks on my skin tone.
Nicholas Sparks Safe Haven Paperback – I love Nicholas Sparks! The Notebook, Nights in Rodanthe, & A Walk to Remember are some of my favorite love stories. I'm checking out Safe Haven this weekend. I like reading the book after the movie because the book provides more detail into the characters backgrounds.
Sweethearts Conversation Hearts & Mariebelle New York's Tresor Box – The Mariebelle chocolates didn't make it an hour. Next time I'm in New York, I will definitely have to stop by their SOHO shop.
I was happy with my Popsugar Must Have box. The only thing I could've done without is the thong. The thong wouldn't fit my size 10-12 friends which is the average size of the American woman. So I'm sure the thong would be useless to some if not many.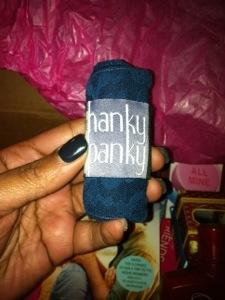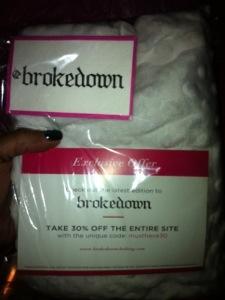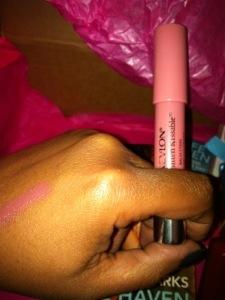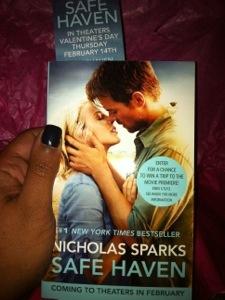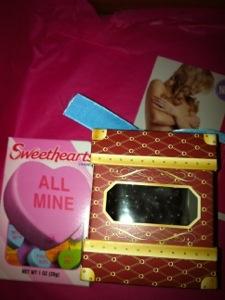 I discovered a new box this week. The Graze box is a weekly subscription box that sends you healthy snack packs for $5.00. Since I didn't get a chance to eat lunch yesterday, these didn't last too long. The whole box of snacks was less than 500 calories and welcome change from my normal snack of …chocolate

You can sign up and get your first box free plus $1.00 off your next box by entering invitation code CVFWYR5. $5.00 a week for healthy snacks is not a bad deal plus you get free shipping. You get to pick and chose the snacks you want to try from their website.