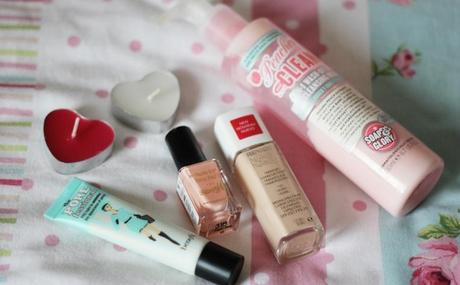 What a month it has been! It has been such a quick one with plenty of uni stress, working, Valentine's Day and celebrating my 21st birthday, and of course I'm back with my favorite products of the month. There aren't very many because I've been sticking to a lot of the same products for another month, but these are the ones that I have been reaching for the most lately. My skin has really been playing up recently with breakouts and bumps around my cheeks and chin, and as a result my foundation just hasn't been sitting very well on my skin. This is where the Benefit POREfessional comes in. This pore minimising primer has been working wonders on the appearance and lasting power of my foundation during the day which is exactly what I was after, and although it is pricey I definitely do think that it is worth it. My new favorite foundation has to be the Revlon Nearly Naked foundation as it is so natural looking and light on the skin, but still covers up any blemishes or redness that you want to hide.
This month I have also fallen back in love with a couple of products, with the first of these being the Soap & Glory Peaches and Clean cleanser as it has been my go-to cleanser for removing makeup and giving my skin a good clean, especially with its current spotty state. Not to mention the fact that it has the most gorgeous peach scent! On the nail front, my current favorite is Barry M Peach Melba as I've been getting back into wearing pretty peach shades, although I'd just be as well saying that my nail favorite this month has been pastel polishes in general. 
My final favorite this month has been candles, and especially the cute little heart shaped tea-lights that I picked up in Sainsburys after Valentine's Day . Although these tea-lights are unscented, I've still been loving having one burning at night when I'm doing some university work or just relaxing in general as it always makes my room feel so cosy. I also finished my Cherries on Snow Yankee Candle the other day so I'm now looking to try out a few more scents, so any recommendations would be greatly appreciated!